Parent (verb): to be or act as a parent.
Words
Ambriel Floyd Bostic
James Callan
Alisa Childress
Hayes Davis
Ashley Espinoza
Jennifer Furner
Mike Gray
Francesca Leader
Elizabeth O'Rourke
Ellen June Wright
Art
Sally Brown
Sofia Chapman
Rachael Grad
Parent (verb)
Rachael Grad – "Mommy Mayhem – Elephant and Doll"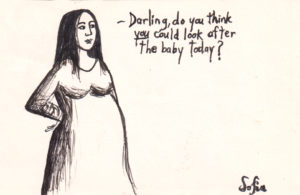 Sofia Chapman, "Look After Baby"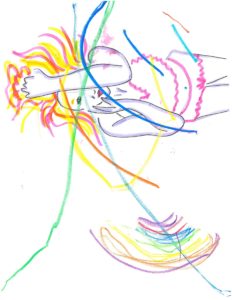 Sally Brown, "Art Time Mama Rainbow"
Artist Bios
A mom of three, Rachael Grad left practicing law to study painting full-time at the New York Studio School and New York University before transferring to OCAD University. Grad's art practice incorporates digital painting and collage to assist her observational drawing and painting. Creating work based on parenting moments, current series include "Motherhood Hit Me Like A Train" works on paper that use trains as paintbrushes and "Mommy Mayhem" digital collages and abstract expressionist paintings. https://rachaelgrad.com/
Sofia Chapman is a writer, accordionist, filmmaker and artist who has exhibited in many solo and group shows. Sofia completed a BA (Hons) in Modern Languages, Tasmania before running away with the piano accordion to play on a theatre barge in France. Sofia returned to Australia to study playwriting and is now a professional accordionist with Vardos Trio. Sofia has presented 6 plays at La Mama in Melbourne Fringe and Midsumma Festival of Queer Arts.
Sally Brown is an artist, curator and writer. Her artwork including drawing, painting and performance, explores womanhood, motherhood and the body. She has exhibited her work nationally and in the UK. She has won two awards for illustration for Intimates and Fools and Leaves of Absence, both with poetry by Laura Madeline Wiseman. Her writing has been published in Hyperallergic, Women's Art Journal and Artslant, among others. She is a member of the College Art Association National Committee on Women in the Arts, edits the online journal Les Femmes Folles, and currently serves as Exhibits Coordinator for WVU Libraries. http://sallyjanebrown.com/about