Ellen June Wright
Washing Day c. 1950
Hands finger a bright-white diaper, damp—
then reach for a peg. She strains upward
to grab the line; one more to clip and clip again
as others flutter in the breeze, a washing-day ritual.
It's something island women do and have always done
like swinging the straw broom back and forth
in long motions with aching, calloused hands
reaching into corners, like wiping windowsills
with a wet cloth and rubbing windowpanes
until the outside is as clear as the inside
and the world she strains to see is not so far away,
and the unvoiced life, the something more,
she longs for beyond house, children and chores,
tugs harder after washing day.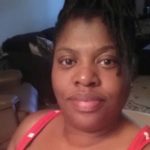 Ellen June Wright was born in Bedford, England but currently lives in New Jersey. Her poems have appeared or are forthcoming in Naugatuck River Review, New York Quarterly, Plume, Atlanta Review, River Mouth Review, Santa Fe Writers Project, Solstice, The Elevation Review, Paterson Literary Review, The Caribbean Writer, Obsidian: Literature & Arts in the African Diaspora and elsewhere. She is a Cave Canem and Hurston/Wright alumna. She received five 2021 Pushcart Prize Nominations for poetry.