Ashley Espinoza
27 Miles
"Should I have nursed her inside the room?" I asked my mom. As a single mother I needed her to drive me to the clinic, 27 miles from my home.
"I don't know, maybe?" My mom said as my daughter swung back and forth in the carrier.
"It's okay I'll just nurse her in the car."
When we got to the car my daughter was asleep.
"I hate to wake her up, do you think we'll make it home?"
"She'll be okay." My mom assured me.
I sat next to my daughter in the back seat and snacked on some nuts and drank iced tea. Ten minutes into the ride, my baby started to cry. Her wails were small at first and then got louder and louder. I tried to comfort her with my voice. I considered taking off my top and holding my breast to her mouth but I wasn't healed from the C-section, her head was so little and my nipples were on fire from having her suck on them for the past five days of her life. Later when she was six months old I would in fact lift my shirt in the car and hold my breast to her mouth. But at five days old we both weren't skilled enough to do that.
My mom was driving anxiously, trying to get us both home. Her granddaughter was hungry and her daughter was stressed that she couldn't feed her baby.
"Should I pull over?" My mom asked.
"I drank all that tea. I need to pee. If you pull over, I'll pee my pants. Plus, I need my nursing pillow. I don't know if I can do it without."
"You're the mom. You tell me what to do." My mom said.
"Just keep driving, we only have fifteen minutes until we are home."
She kept driving. The baby was crying. I would have been crying but I could only think of how bad I had to pee. Why did I drink all that tea?
"Okay when we pull up to my house I am going to run inside and nurse the baby. I don't know if the door is locked though, I can't remember if I locked it."
"I'll unbuckle her from the car seat and hand her to you." My mom said.
"No you check the door."
We pulled up in front of my house I got the baby out and my mom walked to the door and jiggled the handle.
"It's locked."
"Go to the side door, it's unlocked."
I stood at the doorstep waiting for my mom to unlock the door. It was a Thursday before noon. I looked at both of my neighbors houses and no one was home. I lifted my top, unlatched my nursing bra and brought my baby to my breast. She stopped crying and suckled my milk. I looked around again in case anyone was driving by. It was just me and my baby on the front step nursing.
My mom busted the front door open. She looked down to see the baby attached to my body, our eyes met. Mine were saying, What? What did you expect me to do, she was hungry? Her eyes said Wow, I can't believe you're doing that right now outside where anyone can see you. That one glance was all it took for us to bust out laughing.
We looked at each other and laughed and laughed and then I couldn't hold it anymore I began to pee my pants. Through laughter I said "I'm peeing my pants."
My mom laughing, couldn't hold it either. "I'm peeing my pants too."
"Hurry come inside." She laid a blanket on the recliner. "Here finish peeing and nurse your daughter."
I had on a big pad that was almost big enough to be a diaper. I could have kept peeing in my after-birth diaper and it would have absorbed it all, but I had control of my body again so instead of sitting on the blanket my mom laid down for me I went to the bathroom. With one hand I took off my pants. With the other hand I held my nursing baby. I laughed the whole time.
I walked back out into the living room. I looked at the blanket my mom laid out for me to pee on. I looked down at my daughter, content with her hand on my breast, nursing.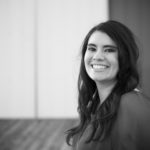 Ashley Espinoza received her MFA from the University of Nebraska and her work has been published in Assay, Brevity's Nonfiction Blog, River Teeth's blog, Forge Literary Magazine, Hobart, Bending Genres, and Janus Literary among other places. She is currently working on a memoir.