Jennifer Furner
The Adventurers
The locker room was boisterous with women's voices and running water, and I navigated my way through naked bodies to the showers with my baby in my arms. A woman, fully dressed, sat behind glass watching everyone wash, ensuring no one was half-assing it; a clean body was required to enter Iceland's communal pools. 9-month-olds were not exempt. I ran some soap over my daughter's skin, my grip slipping, then collected shower water in my free hand and splashed it at her. She whined and squirmed from me. I sat her, naked, in a nearby plastic highchair while I cleaned myself. Then I wrangled her round body into her watermelon swimsuit, which stuck to her slick skin, drawing more whines from her tiny mouth.
Outfitted in our swimwear, I propped the exit door open with my shoulder. A brisk wind smacked us. The Icelandic sky was gray and gloomy. Amelia felt more like a watermelon herself than a baby—damp, large, and awkward—and I tightened my grip around her pudgy legs. I walked across the wet stone path.
Two years prior, before we were parents, my husband Chris and I went night snorkeling in Hawaii. There was a married couple on the boat who had two small children; one looked about 2 years old—old enough to stand and say some words—and the other was still an infant, needing to be held. It was late enough to assume that, on a normal day at home, the children would have been asleep. But their parents were adventurers.
Chris and I decided that when we had a child, we would be the kind of parents they were. We wanted to continue having adventures. Certainly, our child would be an adventurer, too.
We wanted to visit Iceland, and the time was finally right. The flights were affordable, and Air B&B made it easy to find convenient housing. The only hang-up now was we had a child.
I read lots of blogs of parents who had taken little ones on international travel, many who had specifically visited Iceland. Their children loved it, they boasted. There was so much for kids to enjoy in this magical country, they said. And I believed them.
We wanted to go before the tourist season picked up, and we knew the spring weather could be unpredictable. But when we arrived at Keflavik airport, we were greeted by hail and hostile winds. Why had we brought our daughter to such an aggressive environment so incompatible with babies? It was an adventure that she had never asked to take.
Our daughter expressed her displeasure by refusing her naps and crying all night long, thrown off by the time change. At home, she slept well in her car seat, but that changed in Iceland. I spent most of our car rides turned around in my seat, singing songs or playing white noise on my phone, stroking her head or her arm as we whizzed by basalt columns and lava fields. On the off-chance I lulled her to sleep, Chris and I took turns sneaking out of the car to admire golden sand beaches and hidden waterfalls.
Amelia's needs took precedence over what we did and how we did it. We'd cut hikes short if she was fussy. We'd drive past rock formations if it was raining. If we thought she had been in the car seat too long, we'd find a cafe to stop at, so she could stretch out. When the stench of feces filled the car, we stopped on the side of the road to change her diaper; the famously friendly Icelandic horses watched us from behind their split rail fence. While driving through Snaefellsjoekull National Park, Amelia whined with hunger, so we pulled the car into the Holaholar crater to give her a bottle; the tall earthen walls embraced us like a comforting hug, as though the island knew our hardships, our sacrifices, our disappointments and wanted to console us.
Now we were at the Secret Lagoon after a long night of Amelia's incessant crying; once asleep, we slept later than scheduled so we had to skip the Kerid Crater and rush through lunch to make our 1:00 swimming time. Most tourists spent their time and money at the Blue Lagoon, an aquamarine pool heated by the nearby power plant. Instead, we found the Secret Lagoon, a naturally heated spring for half the cost and half the crowd.
Chris smiled when he saw us emerge from the locker room. Droplets fell from his toned arms as he reached up to take Amelia from me. I tiptoed down the steps, then spread out my arms and dunked my chest in the water.
The pool was surrounded by luminous green moss and bubbling puddles. A small geyser in the corner shot up sporadically. Steam rose around us and dissipated into the air.
Amelia splashed happily, flicking water droplets onto her cheeks and her fuzzy hair. Because she seemed to be enjoying herself, I didn't worry that the water was too warm or the breeze was too cold. I let my anxieties sink down to the bottom of the spring, where I could no longer see them.
For the moment, everyone was content to be where they were. For the moment, it wasn't a bad decision to come to Iceland. For the moment, we weren't selfish parents who didn't consider what was best for their baby.
What was best for her? To always stay home, to never be uncomfortable, to never try something new? No, that was no way to live, not even for a baby.
I thought of that couple in Hawaii, wondered if they had struggled like us on their trip, wondered if it had stopped them from future trips. I doubted it.
For the first time on the trip, the first time in the last nine months, we let time sink to the depths of the lagoon.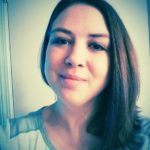 Jennifer Furner has been published in HuffPost, Motherwell, Santa Fe Lit Review, Belmont Story Review, among others. She is the Associate Nonfiction Editor of The Dodge. She lives in Grand Rapids, MI, with her husband and daughter. For more of her writing, visit her website jenniferfurner.com.