James Callan
An Otherwise Quiet Space
Beneath the sheets, my four-year-old kneads my thighs with his feet. In his sleep, or semi-sleep, the many long minutes leading up to it, he grips my leg hairs with his impossibly hot, clammy toes. It's not exactly painful, but it isn't comfortable. It is not conducive to my own chance of slumber, even if it aids my son into his.
When the little feet cease their steady, hot compresses, the toes their rhythmic grasp and pull, I listen in the otherwise quiet space and confirm by his even breathing that my son has at long last faded into unconscious rest. I slip from the sheets, not overly careful, knowing he will remain down and out even amidst substantial noise for the first few hours. It's always the way.
So I stream whatever drivel, Too Hot to Handle or Love Island, I catch up with the Kardashians at any volume I like. Then after a drink — or two if I feel like I need it — I ease myself into my own bed, I join my wife who goes there well before me, who has her own night rituals, her own presleep routines.
With no little legs working the bellows, no little feet laboring away, grasping at straws, my straw-colored leg hair, the conditions are just right. I fall asleep before my wife who has already been in bed for two hours. The soft light of her laptop somehow makes everything right. Even after I start dreaming, that low-level illumination has a positive, lulling influence on my sleep that probably isn't REM. Of this, I am convinced.
Around 3:00 a.m. I hear the usual Daddy! from behind the wall to my right. I shout back assurances, that I am coming. It goes without saying, this wakes my wife. I have to crawl over her to get out of bed, yet somehow neither of us thinks to suggest switching sides. Old habits.
As I sway in the dark, beyond that level of tired I used to feel once upon a time before children, I am grateful I stopped at just the one drink as I watched Selling Sunset. I crawl into bed with my four-year-old son. He falls asleep as soon as I kiss the back of his neck, lay my head upon the pillow beside his own. I listen to his even breathing in the otherwise quiet space and smile in the dark, totally in love, as I feel tiny, hot feet pressing into my thighs, clammy toes tugging mercilessly at my unguarded leg hairs.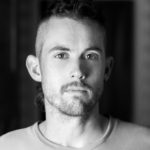 James Callan lives on the Kāpiti Coast, New Zealand on a small farm with his wife, Rachel, and his little boy, Finn. His writing has appeared in Carte Blanche, Bridge Eight, White Wall Review, Mystery Tribune, and elsewhere. He is the author of A Transcendental Habit (Queer Space, 2023).