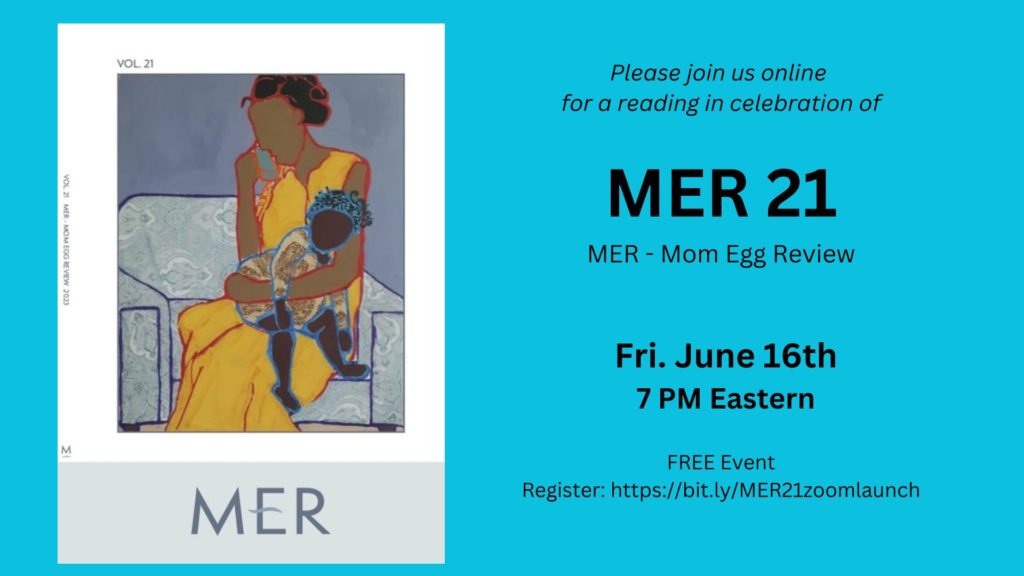 A Launch Reading Celebrating MER 21
Friday, June 16th
7 PM (Eastern)
Online via Zoom
Register: https://bit.ly/MER21zoomlaunch\
Featured readers:
Margo Berdeshevsky, Annelies Zijderveld, Carrie Bennett, Mary Bonina, Robert Carr , Eileen Cleary, Ashley Cundiff, Merridawn Duckler, Suzanne Edison, Jen Edwards, Kelley Engelbrecht, Lupita Eyde-Tucker, Brandel France de Bravo, Elizabeth Garcia, Marie Gauthier, Pat Hale, Katie Hartsock, KateLynn Hibbard, Livia Meneghin, Gloria Monaghan, Dayna Patterson, Jennifer Pons, Kyle Potvin, Kimberly Ann Priest, Jessica Purdy, Martha Silano, Pramila Venkateswaran.
Order a PDF copy of MER 21
Reader Bios
Margo Berdeshevsky, NYC born, writes in Paris. Recent books are Before The Drought, Glass Lyre Press, (finalist, National Poetry Series), and Kneel Said the Night (a hybrid book in half-notes) Sundress Publications. It Is Still Beautiful To Hear The Heart Beat is forthcoming from Salmon Poetry. Berdeshevsky is also the author of Between Soul & Stone and But a Passage in Wilderness Sheep Meadow Press, and Beautiful Soon Enough, winner of the Ronald Sukenick Innovative Fiction Award. Other honors: Grand Prize, Thomas Merton Poetry of the Sacred, Robert H. Winner Award, Poetry Society of America. http://margoberdeshevsky.com
Annelies Zijderveld's poetry has been published in Acentos Review, the Scapegoat Review, ethelzine, the New Republic, and others. She is co-editor of interviews at the Rumpus, a contributing editor to Harpy Hybrid Review, and holds an MFA in poetry from New England College.
Subhaga Crystal Bacon's new book, Transitory, is forthcoming in the fall of 2023 from BOA Editions. She's the author of two previous collections, Blue Hunger, 2020, Methow Press, and Elegy with a Glass of Whiskey, BOA Editions, 2004. A Queer Elder, she lives, writes, and teaches rural north-central Washington on unceded Methow land. Her recent work appears or is forthcoming in 45th Parallel, Rogue Agent, The Indianapolis Review, and Rise Up Review.
Mary Bonina's two poetry collections are Living Proof and Clear Eye Tea. She is also the author of My Father's Eyes: A Memoir as well as a completed novel, My Way Home, being submitted to publishers. A fellow of the Virginia Center for the Creative Arts and recipient of a Moulin a Nef ( VCCA-France) residency, she earned her MFA at Warren Wilson College. Learn more more about her and her work at http://www.marybonina.com
Robert Carr is the author of three collections of poetry: Amaranth, published by Indolent Books; The Unbuttoned Eye, and The Heavy of Human Clouds, from 3: A Taos Press. His poetry appears in many journals and anthologies, and he is the recipient of a 2022 artist residency at Monson Arts, sponsored by the Maine Writers and Publishers Alliance. Additional information can be found at robertcarr.org
Eileen Cleary is the author of Child ward of the Commonwealth (Main Street Rag Press, 2019), which received an honorable mention for the Sheila Margaret Motton Book Prize and 2 a.m. with Keats (Nixes Mate, 2021). In addition, she co-edited the anthology Voices Amidst the Virus, the featured text at the 2021 Michigan State University Filmetry Festival.
Ashley W. Cundiff is a musician, usually disgruntled but occasionally inspired adjunct instructor, mother of three gorgeously wild children, and writer-by-night who is thrilled to have recently completed her first novel. She lives with her family in the woods of southwestern Virginia; you can find her at www. thedomesticwilds.com.
Merridawn Duckler is the author of Interstate (dancing girl press) and Idiom (Washburn Prize, Harbor Review.) New work in Seneca Review, Women's Review of Books, Interim, Posit, Plume. Winner of the 2021 Beullah Rose Poetry Contest. She's an editor at Narrative and the philosophy journal Evental Aesthetics.
Suzanne Edison's first full length book, Since the House Is Burning, was published by MoonPath Press in 2022. Her chapbook, The Body Lives Its Undoing, was published in 2018. Poetry can be found in: Bracken; Michigan Quarterly Review; Lily Poetry Review; Whale Road Review; Scoundrel Time; JAMA; SWWIM; and elsewhere. She is a 2019 Hedgebrook alum and teaches at Richard Hugo House in Seattle and through UCSF.
Jennifer R. Edwards' debut poetry collection is Unsymmetrical Body (Finishing Line Press, 2022). She's a Pushcart Prize nominated poet & preschool speech-language pathologist living in Concord, NH with her family. Her poems won (2022) and were honorably mentioned (2020) for the New England Poetry Club Amy Lowell Prize. Her poems appear in many anthologies & literary mags including Terrain, Tiny Spoon, Remington Review, Snapdragon, Literary Mama. Twitter @Jennife00420145 See her work at https://linktr.ee/JenEdwards
Kelley Engelbrecht is an MFA candidate in creative nonfiction at Columbia College where her work interrogates womanhood and traditional gender roles. She lives in Chicago with her husband, daughter and cat.
Lupita Eyde-Tucker writes and translates poetry in English and Spanish. She's the winner of the 2021 Unbound Emerging Poet Prize. Recent work appears in Women's Voices for Change, Yemassee, Rattle, [PANK], Night Heron Barks, and Jet Fuel Review. Lupita is an MFA candidate in Poetry at the University of Florida, and has received support from Bread Loaf Writers Conferences, the Kentucky Women Writers Conference, and New York Summer Writers Institute. Read more poems: www.NotEnoughPoetry.com
Brandel France de Bravo is the author of Provenance (Washington Writers Publishing House poetry prize winner), Mother, Loose (Accents Publishing, Judge's Choice Award) and the editor of a bilingual anthology of contemporary Mexican poetry. Her poems and essays have appeared in Alaska Quarterly Review, the Cincinnati Review, The Georgia Review, Gulf Coast, Poet Lore, the Seneca Review and elsewhere. She teaches a meditation program developed at Stanford University called Compassion Cultivation Training.©
Elizabeth Cranford Garcia's work has or will soon appear in journals such as Tar River Poetry, CALYX, Dialogist, SoFloPoJo, Mom Egg Review, Psaltery & Lyre, and SWWIM, and has been nominated for the Pushcart Prize and Best of the Net. Her chapbook, Stunt Double, was published in 2016 through Finishing Line Press. She is the current Poetry Editor for Dialogue: a Journal of Mormon Thought, a Georgia native and mother of three.
Marie Gauthier is the author of Leave No Wake (Pine Row Press, 2022). Her poems have appeared in Poetry Northwest, Sugar House Review, The West Review, and elsewhere. She works for Pioneer Valley Books, runs the Collected Poets Series in Shelburne Falls, Mass., where she lives with her family, and serves on the executive boards of the League of Women Voters of Franklin County and Massachusetts.
Katie Hartsock's second poetry collection is Wolf Trees (2023, Able Muse Press). Her work has recently appeared or is forthcoming in Kenyon Review, Ecotone, Missouri Review, Beloit Poetry Journal, and Plume. She is an associate professor of English at Oakland University and lives in Ann Arbor, Michigan, with her husband and sons.
KateLynn Hibbard's books are Sleeping Upside Down, Sweet Weight, and Simples, winner of the 2018 Howling Bird Press Poetry Prize. Some journals where her poems have appeared include Barrow Street, Ars Medica, Nimrod, and Prairie Schooner. Editor of When We Become Weavers: Queer Female Poets on the Midwest Experience, she teaches at Minneapolis College and lives with many pets and her spouse Jan in Saint Paul. katelynnhibbard.com.
Livia Meneghin (she/her) is the author of Honey in My Hair and GASHER reviews. She's the winner of Breakwater Review's 2022 Peseroff Prize, a Writers' Room of Boston Fellowship, and The Academy of American Poets' 2020 University Prize. Her writing has found homes in Solstice Lit, Thrush, and elsewhere. She earned her MFA at Emerson College, where she now teaches writing and literature, and is Program Coordinator for EmersonWRITES. She is a cancer survivor.
Gloria Monaghan is a Professor at Wentworth University. Her poems have appeared in Alexandria Quarterly, NPR, Poem-a-Day, Lily Poetry Review, Mom Egg Review, Quartet and River Heron among others. She has been nominated twice for the Pushcart Prize, as well as the Massachusetts Book Award, and the Griffin Prize. Her sixth book, Cormorant on the Strand, 2023, has been published with Lily Poetry Review.
Dayna Patterson is a Thea-curious recovering Mormon, fungophile, macrophotography enthusiast, and textile artist. She's the author of Titania in Yellow (Porkbelly Press, 2019) and If Mother Braids a Waterfall (Signature Books, 2020). Honors include the Association for Mormon Letters Poetry Award and the 2019 #DignityNotDetention Poetry Prize judged by Ilya Kaminsky. Her creative work has appeared recently in EcoTheo, Kenyon Review, and Whale Road Review. "Gertrude on arte materna" was originally published in O Lady Speak Again (Salt Lake City: Signature Books, 2023), 92. daynapatterson.com.
Jennifer Pons is a high school literature and writing teacher in Portland, Oregon. Her poems have appeared in Across the Margin, Whale Road Review, EKSTASIS Magazine, Ninth Letter, Psaltery & Lyre, Opt West, and CutBank Flash Poetry and Prose Online, where she was named a finalist for the Patricia Goedicke Prize in Poetry. Her manuscript "Locusts and Wild Honey" was named a finalist for the Pamet River Prize 2020.
Kyle Potvin's debut full-length poetry collection is Loosen (Hobblebush Books, 2021). Her chapbook, Sound Travels on Water, won the Jean Pedrick Chapbook Award. Her poems have appeared in Bellevue Literary Review, Tar River Poetry, Ecotone, The New York Times, and others. She is a peer reviewer for Whale Road Review. Kyle lives on the Seacoast of New Hampshire.
Kimberly Ann Priest is the author of Slaughter the One Bird, finalist for the American Best Book Awards, and chapbooks The Optimist Shelters in Place, Parrot Flower, and Still Life. She is an associate poetry editor for Nimrod International Journal of Prose and Poetry and assistant professor at Michigan State University.
Jessica Purdy holds an MFA from Emerson College. Her poems have appeared or are forthcoming in many journals including The Night Heron Barks, Lily Poetry Review, SoFloPoJo, One Art, Museum of Americana, and Harpy Hybrid. She is the author of the chapbook Learning the Names (Finishing Line Press) and two books of poems, STARLAND and Sleep in a Strange House (Nixes Mate Books). The latter was a finalist for the NH Literary Award for poetry.
Martha Silano's most recent collection is Gravity Assist (Saturnalia Books, 2019). Previous collections include Reckless Lovely and The Little Office of the Immaculate Conception, also from Saturnalia Books. Martha's poems have recently appeared in Alaska Quarterly Review, Southern Indiana Review, and Colorado Review, among others. Honors include the North American Review's James Hearst Poetry Prize and The Cincinnati Review's Robert and Adele Schiff Award. Martha teaches at Bellevue College. Her website is available at marthasilano.net.
Pramila Venkateswaran, poet laureate of Suffolk County, Long Island (2013-15) and co-director of Matwaala: South Asian Diaspora Poetry Festival, is the author of many poetry volumes, the most recent being We Are Not A Museum (Finishing Line Press, 2022). She has performed her poetry internationally, including at the Geraldine R. Dodge Poetry Festival. An award-winning poet, she teaches English at SUNY, Nassau. She is the President of NOW, Suffolk, New York.