Starr Davis
Strange Fruits
My grandma keeps a bowl of oranges on her counter. Petite, luscious mandarins. They always look so perfect. Everything in my grandma's apartment has always been perfect. It took me years to realize it is all perfect because she is not.
It is my nephew's demand that oranges be present when he visits my grandma in her senior living community. Last time he was here, he say, Grandmama, you don't like me anymore! I said, boy, why would you say that? And he say because you don't have any oranges for me! She laughed with her whole heart. Her shoulders bounced. Her breathing shortened. I waited for her to gather air in her lungs. She took a sip of water from the bottle near her rocking chair. She still smelled like Estee Lauder after all these years. I take deep breaths of her whenever we hug, praying the smell traps itself somewhere inside me, so when she is gone, I might be able to take small drags of her spirit from that part of her hidden within me. Yeah, so now I make sure there are always oranges here in case he ever stops by. My oldest sister visits my grandma when she can. We all do. It surprises me how much she means to all of us, the pillar of our family, the woman who took us in when my mom moved away to Las Vegas when we kids were in high school. And how often she slips our minds in our adult years. And how visits are now dutiful trips out East to Pickerington, and not those exciting trips where we hurried to load in mama's car to get to her and all the snacks. The large pitcher of grape Kool-Aid in her fridge.
Like almost every Black grandma, she raised us. We did not have our dads. But we had our grandma. And that was the closest thing to having an angel. One we could see. So, I am honored when my grandma asks me to be the one to do the eulogy at her funeral when she dies. The day she asked me, my daughter is 3 months old on her lap. You are the one who I want to say nice things about me, she says. Baby girl is quietly gazing back at her, cocking her neck to confirm her smell and voice are all inside the same woman. I smile. Orange is a strange fruit. It does not grow on a tree. But from the Earth. Nothing rhymes with orange. A fruit you must peel. An entity of layers. A fruit we must obey. Just as strange as my grandma asking me to do a eulogy at a funeral. Me, her least favorite granddaughter. The one she does not remember calling stuck-up, or "too good" for our family. No one ever admits to favoritism. Especially my grandma. In her mind, she loves us all the same. But it is my oldest sister who she has gone out her way to protect. My mom was a young parent coming off a drug addiction when my grandma stepped in, moving from Michigan to Ohio. My grandma shielded my sister, who caught my mother's drunken rage all too often and was severely overweight with a sharp tongue that spoke back to adults. It was her who my grandma let move in with her. While me and my younger sister continued to live under my mother's rule, doing the best we could not get in the way on those days she was drunk or in a mood from not being drunk. I loved my mother. And I loved my grandma. But when my grandma called my mom a drunk or said judgmental comments about her not raising us right, I would say, don't talk about my mom like that grandma. It became war. If I was to choose sides, my grandmother being the tree, my mother being a branch, I was going to hang on the branch, always. My grandma belonged to all of us grandkids. But my mother was mine. She is strange too, just as sour, layered, and beautiful. I was protective over my mother, protective in a way that scared me. I found myself apologizing for my mother, making excuses for her, and shielding her from others' comments, like my grandma. She was right about my mother, but she was wrong to say it to me. So it was me who she despised for being strange and standing up for my mother, and ultimately challenging her authority. While my mother was in Las Vegas, we lived with my grandmother. She did not allow me to take anything from her house off to college, not even the bedsheets. I went hungry on days my grandma went to work and did not feel responsible to feed me or my younger sister. Call your mama, is what she told us. She offered me $50 the day I left for college. I told her to keep it and cried the whole way to Akron from Columbus. I had forgiven my grandma in the silence of my prayers a few years ago from this day of mandarins and eulogies. Her cancer came back in 2012, and the remainder of her breasts were removed. Leaving her with the memory of their weight and roundness. She showed me the scars once. Her cream-colored chest, a canvas of lifted skin like blotches of paint splashed on the flesh. It is the smaller oranges like mandarins that I have noticed to be savorer. The ones that are not always on display at the grocery store. The oranges you have to go searching for, hoping for. The ones relative to your taste buds on certain days, or years, or moments like these, when you will need them to shift topics, and stuff inside your mouth to keep from crying.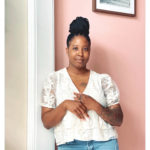 Starr Davis is a poet and essayist. Her work has been featured in venues such as the Kenyon Review, Academy of American Poets Poem-a-Day, and Catapult. She is a 2021-2022 PEN America Writing for Justice Fellow and editor for TriQuarterly. She holds an MFA from the City College of New York and a BA from the University of Akron. She has been nominated for the Pushcart Prize in poetry and nonfiction, Best of the Net.