Elīna Eihmane
Night Mommy
When darkness falls
Night Mommy crawls
into your bed with scissors.
She cuts your nails and treats your wounds
with sea buckthorn oil,
she rubs White Flower ointment on your nose
so you can breathe with ease
and never snore or sneeze.
When you wake up in the morning,
the Night Mommy stops crawling.
A report comes in of her deeds,
and you say: Thank you,
and: Please.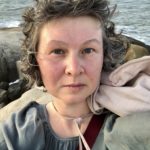 Elīna Eihmane  is a poet, artist, filmmaker and mother from Latvia, currently based in Taiwan. Her first picture book One Day At The Taiwan Land Bank Dinosaur Museum was published in 2021 by The Emma Press, UK. Elina's debut illustrated poetry collection Dragonfly Morning is forthcoming. Dragonfly Morning was shortlisted for Alastair Reid Pamphlet Prize in 2020. Find out about all the different things Elina is doing here: https://www.instagram.com/elinaeihmane/