Cristi Ackerman Wells
My Mother
"I was adopted when I was two weeks old." So goes the beginning of my life story. I have always known I was adopted, but I never knew my biological mother. Her existence was a pulling question, tugging at me. It felt strange to not know someone with whom I had such intimate beginnings. I was the only one of my peers who was adopted. I was fascinated by biological families. I made a study of how they interacted. How similar they looked and moved.
Inevitably my studies resulted in furthering my isolation. I felt like an outsider. Other. Lacking any sense of belonging. I wondered if certain quirks of mine were from my biological parents. Did they have an exuberant goofy personality like me? Over the years I occasionally studied my face in the mirror. Unfamiliar characteristics stared back.  I'd never seen anyone with that same nose, or lips, or skin color. Whose daughter am I?
Once I had a child of my own, my mother's experience gained new meaning. I could not fathom being separated from my daughter. I am filled with a primal need to keep and protect her. To be parted from her would be an unceasing physical and emotional pain. A pain I took on for my mother. I had to find her. I knew she was out there, suffering.
My adoptive parents learned little about my biological family. However, they knew she was mentally delayed and could not fully care for herself. Which meant she would have no social media, no bills, or phone numbers in her name. It seemed impossible to find her, but I never gave up.
In late March 2019, I parked outside a Starbucks and settled in with a coffee. I decided to do yet another search online for my biological mother. I didn't really expect to find anything. All my hundreds of searches before never turned up anything of consequence. It became something I did with my downtime.
In my research I discovered her sister's name. Using a five dollar subscription on White Pages, I made a list of phone numbers for all the women in Arkansas around a certain age and with my aunt's name. It took over a dozen calls, by then I was comfortable making cold calls. I had been chasing leads for years. Thankfully she answered. After hearing my spiel, she asked if I was Cristi. I was overcome. I knew I had found her.
She was my mother's caregiver, and my mother was still alive. We quickly made plans to meet. I was finally going to meet my mother. The person who formed me and brought me into this world. Who is as closely related to me as one person can be to another.
After an agonizing couple weeks of coordinating childcare and schedules, my husband and I made the 600 mile trip to meet my biological family. It was surreal. I was acutely aware that for the first time in my life I was conversing with people with whom I shared DNA. People who would have been my family had I been born into different circumstances.
She was frail and nearly blind, but she knew me. I'll never forget her cry, "My baby! My baby!" We embraced for a long time. She was not what I expected but she was perfect. She always called me by my full name with reverence, as if it were a prayer. This way of addressing me felt like a special nickname. The love in the room was palpable.
Three short years and one long pandemic later, she is gone. I was able to visit her a handful more times before she died. Although those visits were more relaxed, I could not stop marveling at her. I finally saw parts of myself reflected back, not by a mirror, but by our shared shapes.
Through our conversations, I found she had a brutal honesty much like mine. She was so goddamn funny. Also, I got to hear my birth story. Since my adoptive parents did not adopt me until I was two weeks old, I had no idea how I was born. Did she have any complications? Was I born via C-section? What was it like for her? I learned that she held me for a short while. Her family by her side. My mother was devastated when they took me away.
Since her passing, paradoxical emotions seesaw within me. I am deeply grateful I got to meet her and spend time with her before she passed. At the same time, the mythical mother who eluded me nearly my entire life is gone. And she adored me. A glow I was only able to bask in for a small fraction of my lifetime. Most people get that shining adoration for most of their life. A mother is meant to treasure her children above all things. As I do mine. While my adoptive parents offered basic needs and support, I never felt that same fervent love and affection.
I feel her loss as a rent in my heart. The tears fall easily. My grief feels illogical. It was not as if I knew her well. Perhaps it comes from regret? Wishing for more time, to have found her sooner, to have visited more. Did she think of me when she was dying? The thought weighs on me. How I wish that I could have been there with her. As is natural. To be there with the woman who brought you into the world as she leaves it. I am forever grateful for her gift of my life. For enduring profound pain so I may have a better life. For being selfless enough to recognize that she could not care for me. What an immense gift.
Diane was her name. Cristi Diane is mine. Thank you, Diane. Thank you for being my mother.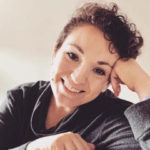 Cristi Ackerman Wells has a bachelor's degree in nursing. Her work has appeared in various publications on Medium. She is an Arkansas native, but lives in Lincoln, Nebraska with her husband, their three children, and one golden retriever. You can find her on Twitter @AckermanWells or Instagram @cristopher_wells.