Review by Ana C.H. Silva
Elina Eihmane, a Latvian artist, filmmaker, poet, and mother based in Taipei, Taiwan, has published a gorgeous, handmade feast of visual poetry, One Day at the Taiwan Land Bank Dinosaur Museum through The Emma Press (March 2021). Inviting to the touch, the book is 36 stapled risograph pages. The back of the book frames this chapbook-length work as a love letter from a mother to a son, but, importantly, the book also surrounds the mother writer with a healing compassion that reaches out to other mothers who have suffered difficult births and challenging postpartum journeys. I wasn't shocked, sometime later, to see the work described as "a picture book for adults," but I'm glad I didn't see this caveat right away because it was compelling to keep open for a while the question of the book's audience. I think it's still somewhat of an open question.
Before she was a poet, Elina Eihmane was an artist, and it shows. One of her mediums is watercolor, and that shows too. Her prose is fluid, seemingly prone to surprises and unexpected twists, to happy accidents, sudden coalescence. Using bold colors, a daring brush, a commitment to be both honest and compassionate, she paints something fresh. Her chapbook begins: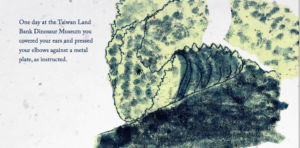 On the next page, interspersed with pressed and scratched gray-purples and muted-fuschia monoprint, she continues: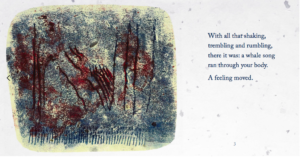 I love the way Eihmane gives us the whole scene and situation, this deep bodily experience, in just two sentences, and I also love that last line, "A feeling moved," which conveys in just three words both the bodily specificity and weirdness of sound waves moving through flesh along with the ineffability of that sensation. There are several moments, like this one, or lines like, "The Earth trembled from my heavy beating heart" when I am reminded of offbeat, classic lines in Goodnight Moon by Margaret Wise Brown; that similarly direct vibe that veers other-worldly, that willingness to convey big feeling with small words which both children and adults immediately respond to. This same line is also a perfect setup for the next pages when Eihmane dives more deeply into the waters, imagining what birth was like for her son, recounting her struggles as a mother, their adventures, and ultimately affirming, in poetry and art, her love for her child and her commitment to that love.
Only a handful of words, interspersed and overlaid with beautifully smudgy, evocative illustrative prints that underscore the mood of the lines, written in poetic prose, this short, satisfyingly square chapbook handles like a children's story but delivers bold messages that will hit perhaps especially adults directly in the heart. In fact, I kept wondering at what age she would deliver this book to her son, especially at lines like, "I needed other people's blood. I almost went extinct, but I didn't." And then, I would think, on the other hand, maybe this wholehearted honesty is exactly what should be in more children's books, and maybe the earlier we read these kinds of stories to children, the better. Is this, in fact, a picture book meant only for adults, or is it also, for all the reasons adults should read the book, perfect for children? I have a sense that people will have diverse answers to this question, but that gifting this unique book to any new mom, especially one who has faced challenges in the transition, would be an uncontroversial delight.
One Day at the Taiwan Land Bank Dinosaur Museum
by Elina Eihmane
The Emma Press (March 2021).
40 pages
9781912915668
---
Ana C. H. Silva lives in East Harlem, NYC and West Shokan, NY. She's found homes for her poems in various literary magazines and has created interactive poetry installations. She won the inaugural Rachel Wetzsteon Memorial Poetry Prize at the 92nd St. Y Unterberg Poetry Center in NYC. Her poetry chapbooks are One Cupped Hand Above the Other, with Dancing Girl Press, and While Mercury Fish, with Finishing Line Press.