Donna Peizer
The Haircut
"Lisa," I want you to get your hair cut," I said for the umpteenth time using the voice that insists that mother knows best.  My 13-year-old looked at me and sighed, worn down by the broken record I'd become.
"Okay, but I don't want it cut too short. Everyone will think I'm a boy," she said.
I scoffed. "No one could possibly mistake you for a boy, sweetheart, no matter what you do with your hair.  You look nothing like a boy, and besides, you always wear earrings."
I could barely contain my excitement.  It had long been my opinion that Lisa's thick, unruly, light-brown hair, overpowered her diminutive frame and fine facial features. The way she flopped her hair over her face and hid behind its protective curtain drove me crazy.  Finally, that was about to change.
The next Saturday, we walked to a nearby beauty salon. I was so focused on getting rid of that wild mop, I failed to notice Lisa's growing reluctance, and I certainly gave her no opportunity to change her mind.
The salon was empty of other customers when we arrived.  A slightly built woman whose short black hair clung to her head like a tightly knit cap, greeted us and led us to the back of the shop.  She said her name was Claire.
With Lisa seated in the salon chair wrapped in a striped smock in front of a bank of mirrors, I began to explain what WE wanted. "Her hair is too long and too thick. It needs to be thinned and cut short to suit her small face and features," I told Claire.
"Not too short!" Lisa piped up.
Ignoring Lisa's admonition, Claire and I swiveled the chair this way and that as we continued to discuss the possibilities.
Finally, the stylist went to work snipping and clipping, cutting and shaping, thinning and trimming. When she finished, Lisa's hair was definitely short; in fact, it looked something like Claire's own hairstyle.
I thought it looked wonderful.  Lisa looked stricken.
"I told you I didn't want it cut too short!" she protested as we hurried away from the salon.
"It's not too short.  You look adorable," I countered.
"I do not!  I look like a boy."
"Honey, it's a big change. You'll get used to it in a few days."
"I will not.  I hate it!"
By that time, we had reached the bank, where I needed to stop to make a deposit.  When I reached for my receipt, the teller asked, "Would he like a lollipop?"
"She!" I corrected.
Lisa glowered, first at the teller, then at me.  "I told you so," she shouted as we left the bank.
She was right.  It happened everywhere—salesclerks and waitresses, gas station attendants and bus drivers, almost without exception. Classmates, too, of course.
I didn't understand.  How could anyone fail to see her as I did—a beautiful young girl with large, sparkling, blue eyes, long curling eyelashes and delicate features with a stylish pixie cut that framed her beautiful face highlighted with gold earrings. That was the reality; everyone else was bound to come around soon, I was sure of it.
Lisa, for her part, took to wearing a blue knit cap pulled down over her ears, her face pinched and angry.
My sister Susan and her family came to town for a visit, and we went out to dinner with relatives. Once the eight of us were seated, I insisted that Lisa remove the hat. She refused, and we glared at one another across the table.
"I talked her into getting her hair cut, and now she doesn't like it," I explained to the assembled company.
"Let's see it, Lisa," my sister said.
"No. I hate it!  I look like a boy.  And I hate her," she said, rising from her chair and pointing at me.
"Take it off, Lisa," I persisted.
"If you make me take it off, I'm going to kill myself!"
"What, you're going to kill yourself over a haircut you don't like?" I was on the defensive, and it was making me a little mean.
"Yes," she answered, and everyone at the table grew very quiet.
After a long moment, Lisa reached across the table and grabbed a piece of bread.  She didn't look at me.  No one knew what to say.  No one could help us.
My memory of that ill-fated meal is nearly photographic. I remember the cornflower blue of Lisa's hat, like I was being smothered by it.  Most of all, though, I remember my sister-in-law Ruth and her partner Ron.  Ron was a loud, overbearing man who never shut up. They were sitting directly across the table from me, and I watched as he repeatedly helped himself to food from Ruth's plate. Her annoyance at these foreign food forays was palpable, but she said nothing. Time and again she leaned back in her chair and frowned as Ron consumed another forkful of her meal.
I couldn't take my eyes off this drama.  Each time Ron reached out to help himself, my disgust grew.  By the end of the meal, I hated him with a passion.
God help me, it was much later before I made the connection between watching Ron gobble up the better part of Ruth's dinner without her permission and my insistence that Lisa get a haircut she didn't want.  I had made a grave error by invading her space and crossing a boundary that belonged solely to her.  I could have acted when that truth was revealed to me, but I did not.  Instead, I took a breath, said nothing, and moved on.
Time passed, and along with it, all hope of ever making it right.  By the time I learned that humility and humiliation are not the same thing, it was too late. My precious girl was no longer open to receiving the amends I held out to her in my open hands.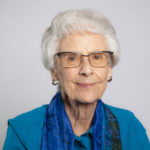 Donna Peizer lives in Grass Valley, CA. She holds degrees in nursing and law. She is a lifelong learner, player of Native American style flutes, and hard-working writer.  Her three daughters, two by birth and one by adoption, have been her most staunch and unyielding teachers.  Her recently published YA/historical fiction novel, Somewhere Different Now, was awarded Literary Titan's Silver Award in December 2021.