Sally Quon
Bad Mom
I should have left the night I told him I was pregnant, when he beat me until I thought for sure I would miscarry. But I was young and scared, living in a city where I knew no one. I was too proud to admit I'd made a mistake. Too proud to ask for help.
I imagine, sometimes, what life would have been like if I had left that night, how different my daughter's life might have been. Ah, but regrets are something I can't allow myself. After all, if I had left that night, my son would never have been born two years later. How can I possibly regret actions that resulted in the birth of another beautiful human being?
It wasn't easy. Our lives were dominated by a man who delighted in making us cry. We existed in a vacuum, always treading carefully, never sure what might set him off. He didn't beat the children the way he beat me, but he hit them often enough to instill fear. The verbal attacks were incessant.
I was weak, a bad mother. I didn't do enough to protect my children, though it broke my heart to see them in pain.
In 2011, just after my son's eleventh birthday and just days before Christmas, my children were apprehended by social services and my world fell apart.
It was the longest eight months of my life. It wasn't until after my children were home that I learned all they had suffered while "in care." I will never forgive myself for that, either. Mother's Day was particularly bad. I would have preferred if the day just vanished. But holidays don't go away just because you want them to. It was important to my kids they be able to celebrate Mother's Day, even if I was cringing inside.
I tried to do right by my kids. I'd left their father after they were taken, but he was relentless. The kids wanted their dad back. I realize now they probably only said so because they thought they were supposed to. Eventually, I got tired of the fight and let him move back in. There were conditions. I had photos now, of the damage he'd done to my face. If he hit me again, he'd go to jail.
The physical abuse ceased for a while, but the emotional abuse persisted.
We worked together in a family business, in teams of two. My son worked with me—he remained relatively unscathed. But my daughter worked every day with that man, suffering his anger, ridicule, and criticism. I will never get over the guilt of letting that happen. I was afraid of what was happening to her, and certain the moment she turned eighteen, she would walk out the door and I would never see her again.
I was afraid, too, my son would grow up thinking it was okay to treat his family that way, the was his father treated us. Afraid my daughter would grow up thinking it was okay to let someone walk all over her, because she saw the way her father treated me, the way he treated her.
I hate that I let that happen, that their lives were difficult because I was too weak to stop it. They were bound to be broken, and it was my fault.
When my daughter turned eighteen, she didn't leave. She stayed until 2018, when after one too many blows, I finally walked out the door. I found out later the reason she hadn't left was because she was afraid to leave me there with him.
After all she had suffered, she still thought to protect me, even as I failed to protect her. I weep to think of it.
My son and I moved away, while my daughter moved in with friends and finally started to live her own life. She came for Christmas. I heard her quietly ask her brother for a DNA sample.
"Are you trying to find out if ____ is your real father?" I asked, my heart filling with dread.
The truth was I'd had a one-time encounter with someone else. The timing was right—he could be her father, and I'd often thought he was. She had the only blue eyes in the family.
I was afraid to tell her. After all she had suffered at the hands of her "father," I was afraid of what she would do if she found out he wasn't her father at all. How she'd hate me! But she deserved the truth, and I told her.
I held my breath, waiting for the anger. Instead, she walked up and hugged me.
"Thank you," she said, "you have no idea the gift you've given me."
I am ashamed. I am not a good mother. My children grew up to be warm, wonderful, kind, and loving human beings, not because of me, but despite me.
I couldn't be more grateful.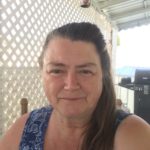 Sally Quon is a dirt-road diva and teller of tales, living in the Okanagan. She has been shortlisted for Vallum Magazine's Chapbook Prize two consecutive years and is an associate member of the League of Canadian Poets. Her work has been published in numerous anthologies including Chicken Soup for the Soul, The Forgiveness Fix, BIG, Straightening Her Crown, and Worth More Standing. Her personal blog, https://featherstone-creative.com is where she posts her back-country adventures and photos.