Dzvinia Orlowsky
Our Dolls Were Naked
Our dolls were naked, but our cats stayed
partly clothed—a ribbon here, a brown felt hat there,
two holes cut and fitted for their ears.
My sister and I wanted them pretty
for when the priest came to dinner.
They'd mew in the hallway, plunk heavy
onto their sides. We waited for the priest
to remove his hat, smile, extend his cool hand
to touch our faces in approval
like Christ to his believers. Instead
he murmured that we were cruel,
headed straight for hell.
My sister's baby doll was large, shiny, round-faced.
Mine was narrow, loose-limbed, rubbery.
It peed rust when I squeezed its belly.
The cats clawed, scratched, refused to be babies.
Like all bad mothers, we grew sharper teeth,
longer noses and learned how to change
the color of our eyes. Frightened of us,
our dolls suffered from stomach aches,
lay prone on the brick walkway
until we took them to the faceless doctor
who administered lilac water jabs
to the soles of their feet.
Shushing them, we brushed invisible
strands of hair from their faces.
The cats rarely got sick.
Lifting them by the armpits,
we reassured them they had enough heft
to eclipse the sun—
The cats celebrated nine lives.
We worried that they'd stop needing us.
And how we missed hugging our dolls!
But the dolls, too, wanted no part of us—
playing hide-and-seek in every darkened room
we couldn't even imagine.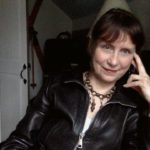 Dzvinia Orlowsky is author of six poetry collections including Bad Harvest, a 2019 Massachusetts Book Awards "Must Read" in Poetry. Her poem sequence "(Dis)enchanted Desna," selected by Robert Pinsky, received a 2019 New England Poetry Club's Samuel Washington Allen Prize. Her co-translations with Ali Kinsella from the Ukrainian of Natalka Bilotserkivets's poems, Eccentric Days of Hope and Sorrow, (2021) was finalist for the 2022 Griffin Poetry Prize and winner of the 2022 AAUS Translation Prize.