Halyna Kruk
Translated by Ali Kinsella and Dzvinia Orlowsky
to Sylvia Plath
O, Sylvia, he entrapped me
in the calico fields of small squares.
Yes, he ensnared me
in hemmed flaxen fields.
He wants to catch me,
to encircle me, O, Sylvia, he wants
to mark me in the soft oblivion
of cotton fields, to enter me in some roster
as an endangered breed, Sylvia,
tie me down by the ankle with two or three kids
so I can't ever leave him, only:
– crumple these checkered fields,
– irrigate these ribbed fields with my sweat,
– grow weak and gray in cotton fields, soft as oblivion.
O, Sylvia, why must a woman pay more for her freedom
than America?
***
in a dream that muddles tracks, a winter hare,
the alarming sound hangs in the air like a dog's bark
and you open the door of the building
high up, as if from an airplane…your mouth gulps at the cold—
is flying down falling? can you
change the circumstances, start the game over? live a life
cross the snowy field…it drives me further
the uncertainty of the dream, some supposition:
who of us did not return?
from the departure into the gray-gray zone,
children in bindles, their mothers hold them
by their names anxious and guttural, as if by the sleeve
and someone is always getting lost and
a woman's cry pierces and rolls with an echo
I saw faces, whiter from the snow…paper,
targets like at the shooting range…
at a distance, safe like a blade
that cuts me and cuts
children scattered in the field children
run, each one has a small hare of fear
and the drum roll of its heart…
sometimes when you hide in snow it's warm
it depends how thick the layer above is.
this dream is like snow…you look down at it with your eyes
at the spiky hedgehog poppy heads, at the chaotic hare tracks
on white, at the tangled conversations,
at the accidental eyes random epiphanies
like flashes of fire
none of us returned from that dream…
***
the villas, sister, are all empty—on a spring ray, like on a spit
we don't turn against men's gazes indiscreet, thirsty
there've been so many disasters in the twentieth century with all of us that
none of us has managed to retain her
childish illusions, girlish dreams, pink slumbers
the villas, sister, are looted, every other one
shame our kind mothers didn't teach us how to survive a war,
occupation, deportation, Holodomor, GULAG
taught us instead to close our eyes when the path is bloodied
leave someone's body spread out, stretched out, your-my body
before the face of abuse, o man, Lord, are you here?
the villas, sister, are being rebuilt, everything will be forgotten, albeit not at once, someday
our sons will grow up, they will trust strength more than us
our daughters, graceful as deer, resilient as Kevlar,
stronger than steel, let them not be applied to wounds,
let them not even be grateful to us, to their wicked mothers
---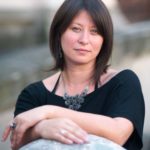 Halyna Kruk is a Ukrainian writer, translator, educator, and literary critic. She is a professor of literary studies at the National University of Lviv where her research focuses on medieval literature in Ukraine. In addition to poetry, she also writes children's fiction. Her children's books have been translated into 15 languages. Her poems have been translated into German and Russian, and she, herself, translates from Polish into Ukrainian. Kruk has been vice-president of the Ukrainian branch of the writer's organization PEN. In 2003, she was awarded the Gaude Polonia Fellowship by the Polish Ministry of Culture. That same year, she won the Step by Step international competition for children's books.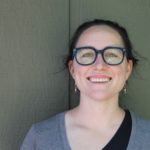 Ali Kinsella has been translating from Ukrainian for nine years. Her published works include essays, poetry, monographs, subtitles to various films. With Dzvinia Orlowsky she translated a collection of poetry by Natalka Bilotserkivets: Eccentric Days of Hope and Sorrow (Lost Horse Press, 2021). She won the 2019 Kovaliv Fund Prize for her translation of Taras Prokhasko's Anna's Other Days. A former Peace Corps volunteer, Ali lived in both Western and Central Ukraine for nearly five years. She now lives in Chicago, where she also sometimes works as a baker.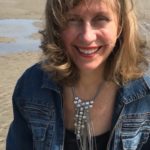 Pushcart prize poet, NEA Literature Translation Fellowship recipient, and a founding editor of Four Way Books, Dzvinia Orlowsky has authored six poetry collections published by Carnegie Mellon University Press including Bad Harvest, a 2019 Massachusetts Book Award Must Read in Poetry. Her co-translations with Ali Kinsella of Natalka Bilotserkivets's  collection of poems, Eccentric Days of Hope and Sorrow, was recently published by Lost Horse Press. She is Writer-in-Residence at Solstice Low-Residency MFA in Creative Writing Program.