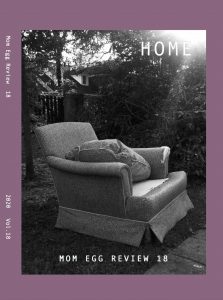 Mom Egg Review vol. 18 – HOME
We proudly announce our 18th annual issue of Mom Egg Review, themed HOME.
Back in 2019, in a different world, we conceived of an issue on the subject. Now, as we shelter in place, we experience new relationships with our dwellings. The diverse, and sometimes eerily prescient, works in this issue wrestle with issues surrounding the nature of home. Is a home a place, a feeling, a center, a community? Home land. Home base. Torn between homes. Unhoused. Also home neighborhood, others' homes, away from home. The earth as home. Can work be a home? Can a poem be a home? Mom Egg Review writers explore "Home" through the lens of motherhood.
Cover art – Susan McClain Craig
---