Mothers Are Making Art:
Art by Melissa Charlotte Thomas
Poetry by Megan Merchant
The ProCreate Project, the Museum of Motherhood and the Mom Egg Review are pleased to announce the 26th edition of  this scholarly discourse intersects with the artistic to explore the wonder and the challenges of motherhood. Using words and art to connect new pathways between the academic, the para-academic, the digital, and the real, as well as the everyday: wherever you live, work, and play, the Art of Motherhood is made manifest. #JoinMAMA
January, 2018 Art by Melissa Thomas words by Megan Merchant
Art by Melissa Thomas
The Mother and the Lemon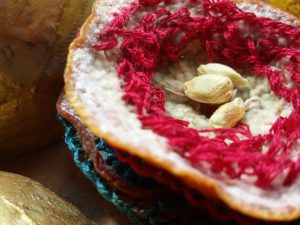 The work will be exhibited at the Shelf gallery in Cambridge January 2018. Visit ProCreate Project to view the full art piece.
Megan Merchant
Working the Night Shift
String a white sheet
from the body of trees
in the wild,
set a lantern
behind its screen
and wait
for the flush of
mottled wings
to lisp and net
the light,
note how some
are frayed as
edges of a rug
beaten against
wind,
how the brightest
markings allow
the most brazen
behavior,
a wingspan—that if
crumpled
inside a mouth—
will tart a tongue.
Wait as they collect
like silk eyes
twitching,
paper darts
that shred rain,
and can trace the scent
of a wounded leaf
to know where
to slip their young
safely.
Wait long enough
and they will show
you how to be reborn
into night.
Originally published in Mom Egg Review Vol. 15 2017
---
Megan Merchant lives in the tall pines of Prescott, Arizona where she spends her days exploring, drinking too much coffee and avoiding the laundry.
Her poems and translations have appeared in publications including The Atlanta Review, Kennesaw Review, Margie, International Poetry Review, Diode and more. She holds a MFA degree from UNLV and was the winner of the 2017 Beullah Rose Poetry Prize, the 2016-2017 Cog Literary Award and the Las Vegas Poets Prize, She is a multi-year Pushcart Prize nominee.
She is an editor at the Comstock Review, and the author of four chapbooks: Translucent, sealed, (Dancing Girl Press, 2015),Unspeakable Light (Throwback Books, 2016), In the Rooms of a Tiny House (ELJ Publications, 2016), and A Thousand Paper Cranes(Finishing Line Press, 2016). Her first full-length collection, Gravel Ghosts, is currently available through Glass Lyre Press and was awarded the 2016 Best Book Award. Her second full-length poetry collection, The Dark's Humming, won the 2015 Lyrebird Award and is also available with Glass Lyre Press.
Her first children's book, These Words I Shaped for You, is now available with Penguin Random House
http://meganmerchant.wixsite.com/poet/about