Lynne Schmidt
Bodies Like Gods
It would be easier to imagine
that there was no blood.
That she did not scream in agony
as she waited for you to leave.
It is easier to pretend that
that lighting was soft,
that your parents held hands until
the doctor, with unstained gloves
announced your smooth arrival.
I have heard that a pregnancy body
is the closest we will come to Gods –
connecting the spirits to
the blood of the earth.
And yet –
our first act of existence
is hurting the women we come from,
and then crying about it.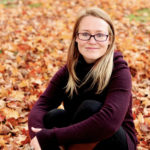 Lynne Schmidt is the grandchild of a Holocaust survivor. They were a semi-finalist for the 2022 Button Poetry Chapbook Contest, and the winner of the 2021 The Poetry Question Chapbook Contest, and 2020 New Women's Voices Contest. Lynne is the author of the chapbooks, SexyTime (TPQ 2022), Dead Dog Poems (Finishing Line Press, 2021), Gravity (Nightingale and Sparrow Press, 2019), and On Becoming a Role Model (Thirty West, 2020). In 2012 they started the project, AbortionChat, which aims to lessen the stigma around abortion. When given the choice, Lynne prefers her pack of dogs and one cat to humans.