Hallie Waugh
Invoking My Mother As I Sit to Write a Poem
Winter nights I'd watch her at the sewing
case, rolling thread between her thumb
and forefinger. Out would pop a knot, as if
mending the hem of my sleeve deserved magic.
Her stories appear from midair, too. She tells
of last year's doomed vacation, follows the thread
from missed flight to bad seafood and, finally,
the twisted ankle that sealed the trip's fate.
I want to trace the thread back, through
a line of women tethering each other with stories.
Or better, back to whatever it is that takes
a life and turns it into a thing worth telling.
Thread through me now, mother who labored
my bones into story. Come with your perfect
exaggerations, your diligence for detail,
your hands at work to gather each inch of your life,
until everything I write is woven through
with parts of me, and somehow, also, with you.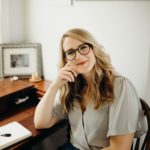 Hallie Waugh is a copywriter by day, poet and essayist by night. She holds an MFA in Poetry from Seattle Pacific University, and her poetry and essays have been published with or are forthcoming from New York Quarterly, Windhover, Fathom, Ekstasis, and Nations Media. She lives with her husband, two sons, and energetic Boxer mix in Oklahoma City. You can find more of her work at halliewaugh.com or follow her at @halliewaugh_writer.