Joan Silber
WRITING PROMPT
Ask three different people what's the most dramatic thing that's ever happened to them.  Pick one to use as the basis of a story.
This gets us to think about what "drama" is.  We often use the term to mean overdone emotion (at my goddaughter's nursery school, they used to say, "Save your drama for your mama," and even the four-year-olds knew what they meant).  But writers who like subtlety (I'm one) can err on the side of being too undramatic, too flat.  This exercise starts by letting human examples define the term by their own experience.  –Joan Silber
---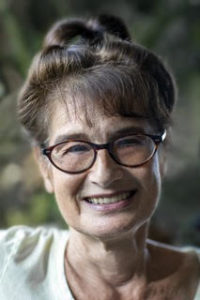 Joan Silber is the author of nine books of fiction, and the most recent is Secrets of Happiness. Her novel, Improvement, won the National Book Critics Circle Award and the PEN/Faulkner Award.  She also received the PEN/Malamud Award for Excellence in the Short Story.  Fools  was longlisted for the National Book Award and a finalist for the PEN/Faulkner Award, The Size of the World was a finalist for the LA Times Fiction Prize, and Ideas of Heaven was a finalist for the National Book Award and the Story Prize.  She is also the author of The Art of Time in Fiction.  She lives in New York, taught for many years at Sarah Lawrence College, and teaches in the Warren Wilson MFA Program.
Her website is joansilber.net.