Nancy Stohlman
WRITING TIP
Bribing the Muse: On Your Mark, Get Set…
Sometimes our stories fall flat, without that "pop" of tension. One great way to create urgency in a flash fiction story is by using another constraint: Time.
For almost a decade now, all my college classes have begun with a 10-minute timed writing. Timed writing is nothing new. We know that it helps us transition us into the writing space, like stretching before a workout. We know that it forces us to stay present and dig deeper—writing past where we might have naturally given up. And we know that keeping the pen moving quickly, without crossing things out or rereading, is a great way to evade the internal critic and uncover fresh ideas.
But I discovered something else through years of this practice: 10 minutes of writing without stopping is also the perfect amount of time to draft a flash fiction story idea from start to finish.
It makes sense: Flash fiction is defined by a (word) constraint, so why not create under a time constraint? Having that clock ticking while you furiously try to reach the end of an idea gives the piece a natural sense of urgency. And writing from the beginning to the end in one sitting also creates a sense of continuity—we see the end coming as we embark on the journey.
I do most of my timed writings longhand, scribbling. But it works with typing as well. And you can use a timed writing in many ways. For instance, you can:
Set the timer while writing to a prompt.
Set the timer when you're feeling stuck and don't know what to write about.
Set the timer and rewrite a "flat" story from scratch while the clock chases you to the finish line (my favorite)
And as a daily practice it's even better.
Besides, you can do anything for 10 mins, right?
Regardless of how you use it, a 10-minute burst of writing can break you through resistance and lethargy. And creating something to push against allows inspiration to bulge and balloon in interesting and unexpected ways.
From Going Short: An Invitation to Flash Fiction
Now available from Ad Hoc Fiction; forthcoming as an audiobook from Blackstone Publishing on March 15, 2022!
---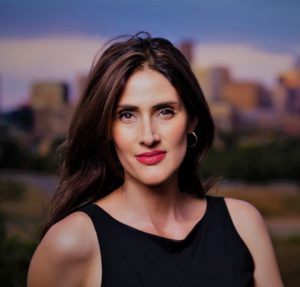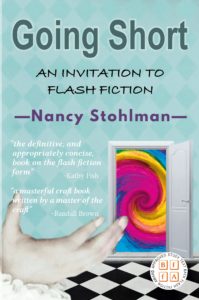 Nancy Stohlman is an award-winning author, performer, and rabble-rouser. Her book Going Short: An Invitation to Flash Fiction (2020), won a 2021 Reader Views Gold Award and is forthcoming as an audiobook from Blackstone Publishing. Her other books include After the Rapture, (forthcoming 2023), Madam Velvet's Cabaret of Oddities (2018), and The Vixen Scream and Other Bible Stories (2014), among others. Her work has been anthologized widely, appearing in the Norton anthology New Micro: Exceptionally Short Fiction and The Best Small Fictions 2019, as well as adapted for both the stage and screen. She teaches at the University of Colorado Boulder and around the world. www.nancystohlman.com
Join us this November for the 11th Annual FlashNano: 30 Stories in 30 Days.
 https://nancystohlman.com/flashnano/
Online Workshops: https://nancystohlman.com/onlineworkshops/
Summer Flash Fiction Retreats in Spain and Colorado: https://flashfictionretreats.com/