Linda Lamenza
My Inheritance
When the relatives drank the last drops of Crown Royal Whiskey,
my grandmother washed the bottle out, soaked it until its label fell off.
Polished, etched crowns surrounded its neck,
diamond patterns made a crown,
the shape perfect for Nonni's fingers to grasp.
Mom and Nonni cooked together, sometimes all day.
My mother took the bottle down from the cabinet above the stove,
Nonni got the metal funnel and Bertolli Olive Oil Can.
I held the bottle steady while Nonni poured the green stream
through. Never spilled any.
Sealed it with a wine cork.
The bottle prepared pans for meatballs,
pizze frite, eggplant parmigiana, steak pizzaiola.
When I moved into my first apartment, my mother
sent it with me, saying You'll need this now.
---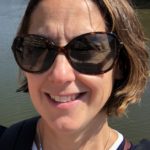 Linda Lamenza is a poet and literacy specialist in Massachusetts. Her work is forthcoming or has appeared in Constellations, Rogue Agent, Main Street Rag, The Comstock Review, The Tishman Review, and elsewhere. Her chapbook, Left-Handed Poetry, was a finalist for Hunger Mountain's May Day Mountain Chapbook Series. She is a member of Poemworks: The Workshop for Publishing Poets. Linda is fluent in Italian and enjoys spending time at the beach with her family.