If the Shoe Fits
by Jessica Feder-Birnbaum
How can we keep the dead alive? In memory? In spirit? In…deed? What if the dead are larger than life? Like my beloved mother in law Gittel Bat Sarah or more commonly known as Gloria Birnbaum. Born Gloria Weinberg, 1929 in the Bronx, she was named for Gloria Swanson the movie star. And like her name sake, Gloria had star power. Statuesque and striking, my mother-in-law dressed to the nines.
Head of the popular table and volunteer Yiddish instructor at the Riverdale Y, Gloria was surrounded by adoring fans. Yes. She was a "Jewish" mother. A "helicopter" mother. And a "worry wart." She was also razor sharp, hilarious and fiercely loyal. A breast cancer survivor, and widow after 60 years, she did what all women of valor do – kept going on. When she wasn't at the Y, she held court at Liebman's Deli and Blue Bay Restaurant on Johnson Avenue. If you were looking for sound advice, belly laughs and a sympathetic ear, there was no one better than my mother-in-law.
She used to say I wasn't just her daughter-in-law, but her second daughter, and I considered her to be my second Mom. And as her second daughter, I was tasked with clearing out her closet; a closet that hadn't been touched in 55 years. Rummaging through hangers I was reminded of her dazzle. Gloria loved shoulder pads, sequins and shoes. She had shoes in every style. There were KEDS in all different colors – perfect for trips to the elder hostel. Flats with rubber soles were for running errands. The kitten heels she wore to parties where she loved to dance and reveal her slim ankles. The shopping trips to Marshalls and TJ Maxx for these shoes, many never worn, were before the falls that sent her first into the emergency room and then into rehab. And after rehab, she wasn't the same and could only wear zip up sneakers that accommodated her newly swollen feet.
Gloria's shoe size was a nine and a half narrow. I wear a nine. My sister-in-law, an eight. Gloria's shoes didn't fit us. Ancient Jewish law dictates that you must throw away a dead person's shoes. We never discussed what to do with them. Gloria was a pious woman who took God and the Torah at their word. I was torn. Why should such beautiful shoes go to waste? The old laws were written with the intent to prevent the spread of infectious diseases. Would they apply today? After further research I was relieved to learn that modern rabbis find it preferable to donate shoes instead of discarding them.
Where to donate was the question. If I left them at Goodwill, someone would still have to buy them. These shoes needed to be free. As if by divine providence (Gloria?) I soon had my answers. A social worker on Nextdoor Digest put out a call for women's sneakers for her clients. I gave her all the Keds. I wondered what to do with the others. Then I discovered Facebook's Buy Nothing Groups. Though I don't technically reside in Riverdale/Spuyten Duyvil, the admin graciously allowed me to join.
As soon as the Buy Nothing members saw that I was posting brands like Dexter, Tahari and Bass – I had wait lists a mile long. Who knew that size nine and half narrow shoes would be so popular? But there were some hiccups along the way. I had to learn Buy Nothing Group etiquette. It's not first come, first served. You have to let items simmer for 24 hours, then, divvy up the goods so everyone gets a chance to receive.
Periodically, I would take a break and sit alone at Gloria's dining room table, where we used to spend hours over cups of hot Lipton Tea. If she were alive, she would have said, "Can you believe it? They're all going nuts for my shoes." I would confirm, "I believe it." Then she would announce, "They happen to be excellent quality." I would nod in agreement and chime in something silly. "You know how there's a lid for every pot?" Then she would say knowingly, "Yes, and that's why any man with a face not even a mother could love is married." And I would add, "Well, for every foot there's a shoe." And then we'd crack up.
Instead I check my Facebook messages. Wedges, loafers, and flats have been picked up from the doorman. There are notes of gratitude and photos of new owners sporting their footwear. I imagine these women walking around Riverdale filling Gloria's shoes. Maybe they're picking up kids from school or shopping for groceries at Key Food. Even better if one of them is savoring a corned beef sandwich. I draw comfort in knowing that Gloria's shoes are being put to good use and in some way allowing her to live on.
---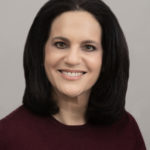 Jessica Feder-Birnbaum is a playwright, author and theatre artist. Her plays have had readings, workshops and productions in New York and regionally. Other writing appears in print and on-line. Readings/productions: Coronavirus One Minute Play Festival (Queens Theatre, NYC), The Director's Workshop Theatre of Western Springs (Illinois), Bechdel Group's 9th Overnight Writing Challenge (NYC), Clutch Productions EmpowerHER Reading Series), Burning Coal Theatre (Raleigh NC), 5 Minute Jewish Play Festival Second Prize recipient; (San Diego)