Please join us at our online launch party for MER 19!
Sunday, May 2, 3:00 PM to 7:00PM
Free and open to the public. FREE Tickets via Eventbrite;
you will be sent a link to access the event.
Get the print issue (use coupon code COMMUNITY for $3 off!).
Get a PDF copy (just $5!).
Your Hosts: Marjorie Tesser, Jennifer Martelli, Cindy Veach
Readers:
Ana Caballero
Catherine Reinhart
Ellen Stone
Gerry Connolly
Jennifer Poteet
Kyle Potvin
Lisa DeSiro
Martha Silano
Michele Sharpe
Natalie Gerich Brabson
Rachael Inciarte
Sherri Levine
Sunni Wilkinson

Melisa Cahnmann- Taylor
Connie Post
Emily Tuszynska
Eva Saavedra
Gwen Martin
Heather Haldeman
Hilary Sallick
Kuo Zhang
LeConte Dill
Lenny DellaRocca
Margo Berdeshevsky
Partridge Boswell
Wendy Taylor Carlisle

Amy Dryansky
Carol Dorf
Hilary Sideris
Judith Skillman
Julie Hensley
Karolina Zapal
Kathy Curto
Maria Lisella
Michael Carter
Samn Stockwell
Sara Quinn Rivara
Subhaga Crystal Bacon
Tina Kelley

Anne Pluto
BeeLyn Naihiwet
Caroline Goodwin
Dayna Patterson
Gloria Monaghan
Jacquelyn Grant Brown
Jill Crammond
Julia Paul
Madison Block
Marjorie Maddox
Mary Buchinger
Stephanie Andrea Allen
Suzanne Edison
Theo Greenblatt
Wendy Drexler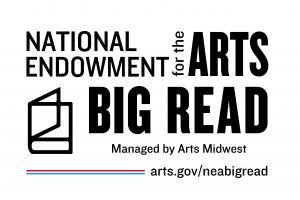 NEA Big Read is a program of the National Endowment for the Arts in partnership with Arts Midwest.