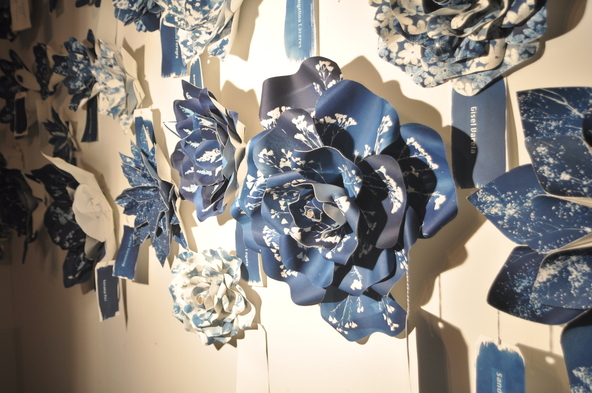 Natali Bravo-Barbee – Flores de Femicidio
The Prussian Blue cyanotype flowers of Natali Bravo-Barbee looked steadily at me from the wall. Part of the If Only exhibit at the Olive Free Library, the blue and white florals, each entirely themselves, intimated a deeper story. A body tag, shaped like those found in a morgue, hangs down from each Femicide Floral. Each tag names one of the 327 Argentinian women murdered by men in 2019. Sometimes found in trash cans by their loved ones, thrown away in the violence borne of the "machismo, jealousy, sense of superiority and entitlement," their perpetrators usually are not punished for their crime. Born in Argentina, raised in Queens, Natali Bravo-Barbee hand-makes each flower, strewing the materials all over her apartment in a camera-less process that "captures shadows of what once was." She pulls from the ancient ritual of placing flowers at the graves of loved ones; she notes we have pollen-related evidence of Neanderthal offerings as far back as 62000 BCE. We use flowers, she says, to honor the memory of loved ones, to symbolize life and death, and to honor our own grief. Story-teller, photographer, and mother of a 1 year old baby boy, Natali Bravo-Barbee says,"Sometimes I make the work with my baby on my hip." She thanks her support network: her husband and artist assistants/friends who make it possible to spend the 10 hours each unique flower requires. A grant given to her by the Queens Council on the Arts was also crucial. When all 327 flowers are complete, Natali Bravo-Barbee hopes to display the complete work as both an installation that acts as a memorial and as a book that dives deeper into the stories and identities of those we have lost. She speaks of these girls and women, whose stories she gleans from newspapers and from the comments and photos their families provide, with tremulous feeling, shared by all who witness the somber, beautiful Flores de Femicidio.
 Project Statement
By the time you finish reading this sentence, a femicide has occurred. My most recent project Flores de Femicidio examines gender-based violence against women in Argentina, my country of origin. There was a sudden increase in femicides in Argentina, in 2019; one woman was murdered every 27 hours.
This is important to me because history repeats itself. I experienced domestic violence in my home as a child and then in a personal relationship when I was older. We had both been exposed to domestic violence at home with our parents and went on to repeat that learned behavior in our relationship as adults: I was lucky to have had the proper police intervention and protection to be alive today to tell the stories of women who were not as lucky.
I began researching femicides occurring in Argentina during January 2019 and created an archive for each woman/victim. This archive includes journalism surrounding the murders, as well any traces of the victims found on social media. Once I had a sense of their story, I memorialized them by creating a 3-dimensional cyanotype flower, with a label that honors each woman by her name. These objects serve as a manifestation/embodiment of the lost women. Flores de Femicidio is an on-going project to be completed in 2021 with QCA New Works Grant.
---
Natali Sabina Bravo-Barbee (born, Córdoba, Argentina) creates works at the boundary of photography and sculpture. Bravo-Barbee has been photographing her world since the age of fifteen, incorporating alternative processes such as cyanotype into her practice.
Bravo-Barbee holds an MFA from City College, CUNY and a BA, Studio Art from Hunter College, CUNY​. She ​lives and works in Queens, New York and is on the committee of the Southeast Queens Artist Alliance (SEQAA).