Tsaurah Litzky
The Sweet Potato Plant
When I was little my mother and I lived with my father's parents in their house in Brownsville, Brooklyn. My mother told me my father was away in France fighting in a big war to save the world from a bad man named Hitler. She showed me a picture of my father smiling, wearing his soldier's uniform. He looked nice. One day my mother and I went to the Woolworths on Pitkin Avenue to buy me my first coloring book and crayons. The Woolworths had a plant section. My mother told me to pick one out to take home. I picked a plant with lots of little pink flowers. "That one is called a begonia, it's one of my favorites," my mother said.
When we got home and my grandma saw the begonia she told my mother she didn't want any plants in the house. Spotty the dog would eat them. My mother pulled her lips into a straight little line and said nothing. She went downstairs to the apartment where my Aunt Dottie, Uncle Leo and their daughter Marlene lived and gave the begonia to them.
My father came back from the war. It was not over. We got the news in a telegram that he was coming home because he had been injured. He was in the hospital but was now ready to return to America. Mother and I, Grandma and Grandpa got dressed in our best clothes and went down to Penn Station to meet him. The man that got off the train was not like the smiling soldier in the photograph. He didn't smile and he was very thin. He had a big red scar on one of his arms and when he was talking his hands would shake. I used to sleep in the big double bed in our bedroom with my mother but I was exiled to sleep on the studio couch in the living room.
My mother moved a cot into the bedroom so she could better nurse my father. Sometimes she would just sit on the bed and hold him in her arms. She told me to call him Daddy and every day she brought me in to say hello. He would whisper Hello back and give me a little smile.
Grandpa was working in his factory during the day and my mother did the household shopping. She was stronger than Grandma and could pull the big shopping cart. We were in the vegetable store buying garlic, carrots and onions for chicken soup. My mother also selected a big fat sweet potato. When we got home she told Grandma she was going to grow a sweet potato plant in our bedroom. She said she would always be careful to keep the door closed.
My mother found a big glass jar that used to hold pickles. She put toothpicks around the top half of the potato. She filled the jar with water. She said the pointed end should always go down into the water. She told me she learned how to grow a sweet potato plant from her mother, who had learned from her mother when she was a girl in Russia. "When my brothers and sisters and I were growing up on Avenue A," she told me, "we always had a sweet potato plant on the dining room table."
Within a week, spidery white roots started to grow out of the part of the potato that was under water. About a week later a skinny purple vine sprouted up on top of the potato and then another and another. My mother liked to read the Daily Mirror to my father, especially the Sports pages. He got well enough to read me the Sunday comics section. I would sit next to him in bed and he would put an arm round my shoulder while he read. My favorite comic was Li'l Abner. By this time the sweet potato plant had grown study vines bearing many heart shaped bright green leaves. "Plants make a happy home," my mother said. "Sweet potato plants especially can live a long time in water."
When my father got better, he took a job as a statistician for the Census Bureau in Manhattan. He enjoyed working with numbers. He taught me how to play checkers and once I even beat him. My mother enrolled me in kindergarten so I had a chance to play with other kids. On my fifth birthday my mother announced I would soon have a little brother or sister. We would be moving to a home of our own in a new housing project built by the city in Sheepshead Bay. There would be four rooms in our apartment. My brother or sister and I would share a bedroom.
We got a car, a 1949 maroon Chevrolet, and my father learned how to drive it. On moving day our belongings were in a U-Haul attached to the back of the car. My mother and father sat in the front seat. I sat in the back seat with the sweet potato plant next to me in a cardboard box.
---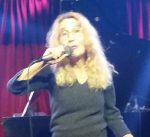 Tsaurah Litzky is a multi-faceted poet who also writes fiction, creative nonfiction, memoir, erotica, plays and commentary. Her most recent book is Flasher: A Memoir (Autonomedia). Tsaurah lives on the Brooklyn Waterfront where she can see the Statue of Liberty, icon of free women every where, from her kitchen window.