Assumption
Emma Bolden
The snow stopped before I was born, but I was a girl before the rain started. That was when I had a different body, all baby fat and fast flashes of motion that stilled into sleep. That was before my body made its breasts and hips, before Mama looked me up and down and said my body was half grown but I needed to mind because my mouth wasn't, before she snuck out the back door under night's blanket so she could make herself another baby to love until it became a girl.
The summer my sister was born, I remember staring up the woods that trailed our house and seeing snow. I blinked hard, I remember, and when my eyelids showed me the world again, it was still there, that summer snow. Mama called it Queen Anne's Lace and told me not to touch it. She warned me about its thorns and brambles, how each blossom built a cage to keep itself in safety. She warned me—I remember—but still she sent me on outside, hushing the baby up to her breast.
When I thought Mama was watching, I stayed good and in her sight, digging in the red clay for a chunk of sandstone then tattooing words on its back with a nail: Ocean. Cloudbank. Dream. When Mama wasn't watching, I hurried down where the dead edge of our dead lawn lipped up to the woods. I wanted to see the secret those snow weeds kept: each blossom spiraled in identical circles, five petals around an invisible orbit. I touched until each flower got a chance to cut my fingers, prick my thumbs, then I took my wounds back in the house, where Mama still rocked the baby in her sleep. And sometimes when I slept tucked into the neck of the night I could still hear Mama singing to her with a sweetness I liked to imagine she once gave to me.
Men told us that the rains would come. Men came in black and blue uniforms, knocking up and down our doors, their faces pursed with concern. When the water started coming, they said, it was going to keep coming. And there wouldn't be police or paramedics either, no men swollen bright with life jackets rowing their way to pull us out our windows, off our roofs. Mama said no so the men kept talking, kept telling her there wouldn't be reporters with white notepads to pencil in notes about the stories we told their cameras. White-jawed, Mama bounced the baby on her hip. She shook her head, and from my spot hiding just around a corner I saw the men's faces flash, alarmed and red. There wouldn't be doctors to suck the water out of our noses, they said to Mama's still-shaking head, there wouldn't even be coroners to float us down to the morgue so we could rest in our deaths. She shut the storm door between them and through the window I watched them walking to their car, shaking their own heads and spitting snuff, saying Mama had just dug us all a grave.
After the sky made itself a black beyond gray, Mama's brother came and said it was time to go. Said our last chance had already passed. Said she could keep thinking about herself if she also started thinking about her children. Mama stood, teeth gritted, arms locked. I am thinking about my children. I am thinking about my family. I am thinking about how this is the land where our parents' bones were sown.
Her brother stood, same as Mama, arms folded up in protest. Then you're ready for your bones and your children's bones to slide into the mud down with them?
Mama stood. Teeth-gritted. Her brother turned away. And that was it. We stayed.
Three days later, the bones we knew and the bones we didn't know came floating up from their graves.
There were no newspapers, no cameras. There were no ambulances loosing shrill red sounds from their throats. There were no mothers running with their children through the streets. There were no streets, just the swollen force of a tide that forgot what it means, to rise and fall. And on its surface, limbs and logs, pillows and photographs, the soggy refuse of what had once been someone's favorite book, someone's favorite scarf, floating to its forever away.
I like to think that this is what Mama did. That her body let go of its bones. That those bones floated off to find their family, to add another line to our small history, the one no one ever bothered to write down. When the water filled the first floor, she put the baby in my arms and made me climb first, then followed. When the water filled the second floor, she pushed us up the attic ladder then followed us. But when the water reached the attic, it took her a while to find that hammer and that axe, to find a place to open a hole in the roof that'd show us its sky. By the time we looked up and into a wide enough light for our bodies to enter, we were wet to the neck, sister sitting on my shoulders. Mama held my legs and pushed me up and I reached back and behind me for her hand. There was nothing there.
*
All the men who talked to Mama were right: it gets dangerous up here, on this roof. It gets hard to look down at all that surface and remember it's wet, remember it's not earth. It gets hard to keep yourself from jumping down into all of that reflection, that other sky. At night I look for clouds around the moon, for the halo Mama always said meant rain. When the baby cries, I hold her to my chest and tell her that the water that's all we can see once was land. I tell her flowers once snowed here and all through the summer I waded through the drifts, neverminding the thorns, searching each bloom for the bloodstain a queen left behind when her fingers got too tired to sew. I tell her it was a miracle, that a drop of blood could leave so many marks. I tell her there are miracles, still.
I hold the baby to my chest and try to call her sister. I try to sing to her with all the sweetness Mama kept in her throat. And if the water comes higher, I will lift her to the sky, I will hold her there and remind the sky that once it believed in miracles too, I will lock my elbows and lengthen my arms and hold my sister up higher, higher. I'll tell the sky what it's going to take.
---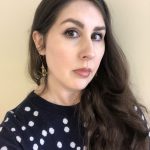 Emma Bolden is the author of House Is an Enigma (Southeast Missouri State University Press), medi(t)ations (Noctuary Press), and Maleficae (GenPop Books). The recipient of an NEA Fellowship, her work has appeared in The Norton Introduction to Literature, The Best American Poetry, and such journals as the Mississippi Review, The Rumpus, StoryQuarterly, Prairie Schooner, New Madrid, TriQuarterly, Shenandoah, and the Greensboro Review. She currently serves as Associate Editor-in-Chief for Tupelo Quarterly.