Grand Diva, Interrupted
by Anna Limontas-Salisbury
When my daughter announced I was going to become a grandmother, I was still processing motherhood. I was only coming to understand that the role shifts, but does not end. My daughter was beginning her own family and my son completing high school. I was now more of a coach, cheering them on, as my own mother has been to me for years since becoming an adult.
My granddaughter is the 6th generation first-born daughter, since my great-grandmother's birth in Charleston, South Carolina, 1907. My great-grandmother raised her daughter, my mother, and in part, me. She was the kind of woman many working women depended on in their communities, before the Head Start for School Readiness Act in 1964. She was grandmother to all left in her care.
Had Reaganomics, Welfare Reform, sex, death and divorce prepared me for this role? What kind of grandmother would I be? Cautious.
As rumor of the pandemic spread, I eliminated Toddler Time at the local library. One morning an older toddler plopped themselves into my lap. Their runny nose and wet hands set me on high alert. My hands shot in the air as if I were in a holdup.
"Hello? Whose baby is this?" I yelled.
As I was finding my way, Covid-19 interrupted my new status as a Grand Diva, like a sudden vinyl record needle scratch.
Before NYC's mandated isolation, my days began at sunrise. Monday-Friday I met my daughter at the corner of 155th and St. Nicholas. The baby, snug in her stroller bunting, was usually sleeping. My daughter passed on last-minute details, like how they slept the night before and the last feeding. She kissed me good-bye yelling "Thank you!" over her shoulder as she ran to catch the train. I chatted with the crossing guard while waiting for the traffic signal and headed to my place.
Most mornings, I saw the same people heading south on St. Nicholas Avenue. I saw the same woman running with a toddler boy, as one of the two girls running ahead, held the M3 bus at the corner of 150th St. I saw the same "Old G" in a classic bomber jacket, with two boys in matching backpacks, at the corner of 147th. I saw the same petite woman with the waist-length black hair, pushing a toddler enclosed in a red stroller. We always met up at the intersection of 145th waiting for the traffic cop to wave us through.
Covid-19 shut down our routine. No more breakfast together, balancing her on my lap with one hand and my lukewarm coffee in the other. No more laughing at her enjoying a Clementine, biting into it like an apple, swallowing the pulp and rind. No more watching her eat blueberries and strawberries as if food for the Gods. No more look of satisfaction as she shoved a stray blueberry, found on the kitchen floor, into her mouth before I could grab it.
The days became silent. Gone, the crashing of toys thrown across the living room, narrowly missing the flat screen television or me. The musical toy oven singing "Pizza, Pizza, Pizza!" No more classic Sesame Street hits like, "B is for Bubble" and "Put Down the Ducky."
Gone, was the music to keep her bouncing on her knees, hands in the air and me sane. No more Disco, with her in my arms while Jackie Moore assured us "This time, this time baby, we won't be in and out of love". No more reliving Classic House music stomping to "Follow Me" with Aly-Us. No more beating head to Mos Def's "Ghetto Rock."
No more putting her to sleep to People and Songs, "Psalm 23″ and watching her body go limp as I sang the line, "Hallelujah, I'm not alone."
I was alone. My granddaughter sheltered with her parents. My 19-year-old son, with his dad in Brooklyn, at the start of the shut down tried to ease my mama concerns, telling me,
"Don't worry mom, I read all the books," he said listing The Hunger Games, Enders Game and The Maze Runner "So, it's like I'm prepared." I'd read many dystopian novels. I didn't feel prepared at all.
---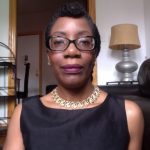 Anna Limontas-Salisbury an educator, writer, and poet. She is currently a social distancing grandmother, AKA Grand Diva. Her poetry was showcased by Emotive Fruition, a live performance series, in 2018-2019. Sweet Action Poetry Collective published her most recent poem "Call Your Mother". She is currently contributing poetry book reviews for The Mom Egg Review.