Jennifer Givhan
Jer Bear & the Magical Thinking that Keeps Me
safe. Meow meow I'm a cow croons the child beanstalked each night
til he's taller than me & the two plus two equals blue two
lines that never bled across the moon & I imagine I dropped
him each night before he sprang into another woman's womb
& I mother/tomb sang to him come home to me little boy for
without you I will never be whole. he digs a hole in the backyard
& says Jesus is coming soon. he's making him a bed of soft dirt.
beep beep I'm a sheep. what did she eat, he asks, his basalt-
scrub of black for eyes, the other mother before you? for he's
heard somewhere a pregnant woman craves the child's
favorite food & he craves always raw truth. I watched her
gnarl pig's feet. I watched her chew my heart. no, no. I say.
she ate a cheeseburger the night she had you. the disappointment
slackens his forehead. hers. he'd hoped buttered corn. he'd
hoped snakeslick noodles down the throat. sometimes I wish
motherhood poems won awards big enough to buy a house.
& then I remember fireflies in the Northern field where a woman
birthed a beautiful boy & there I lowed & there I never died.
Retablos & Other Miracles
A shock of clock mid-
summer, monsoon season
& those porpoise-for-clouds
silver the sky— Did you know
we've hunted them nearly
extinct, less than a century
since we found the vaquitas?
as if every damned thing
we pretend to love
is doomed
& the altar on my windowsill
with its berries I intended as ofrenda
I've bled instead, without telling
a soul, not ghosted or clinging
to this sticky world, what hunger
compels me onward.
It's not that I cannot care
about the world we've broken.
All afternoon I've believed
in my own strength.
From upstairs my children playing
with the neighbor in make-
believe voices, higher
pitched than their normal so I know
nothing is truly wrong, call
Mommy, to each other, He kissed me!
That boy! Kissed me!
And I think healing a motherbroken
space for at least the handful
of us, at least for now,
has to be enough.
Amen.
---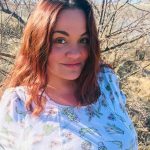 Jenn Givhan is an NEA and PEN/Rosenthal Emerging Voices recipient, who has been published in The New Republic, Salon, POETRY, and others. The author of four collections of poetry and the novel Trinity Sight, she lives with her family in New Mexico.