Deborah Bacharach
The Polyamorous Understand You Don't Understand
I wanted a husband. The pumpkin
settles in by the dark door. She did not.
I wanted a child, sideways teeth
gone devil may care. She did not
want one of her own. We wanted
the same man but not—my son
scrapes seeds from the pumpkin
he peers in its dark depths—
on the same days. He hugs the glow
against his chest. She and I
carry this son's pumpkin,
from her condo to my porch,
her laugh skips then jumps in
like a frog out of season
that broke all the reasons.
---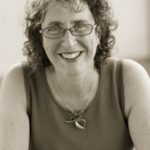 Deborah Bacharach is the author of After I Stop Lying (Cherry Grove Collections, 2015) and has published in journals such as Adroit, Poetry Ireland Review, Vallum, Cimarron Review, and Poet Lore among many others. She is an editor, teacher and tutor in Seattle. Find out more about her at DeborahBacharach.com.