MER VOX Folio Curated by Jennifer Martelli and Cindy Veach
Since the 2016 election, the news has been mostly terrible. Both online and offline we have been barraged 24/7 by an overwhelming level of toxicity. We'd like to offer our readers a respite, however brief.  For our December folio, we're featuring poems that celebrate silver linings wherever they may be found: in those we love, in nature, in literature, in sisterhood, in memory.
It is with great honor and love that we present this Vox Folio: Silver Linings.
Jennifer Martelli and Cindy Veach
Featured Poets
Maria Mazziotti Gillan
Jen Karetnick
Allia Abdullah-Matta
Catherine Esposito Prescott
Radhiyah Ayobami
Julia Lisella
Keisha Molby-Baez
---

by JP Howard
I am delighted to share this new folio featuring an interview and three new poems by Christina Springer, a fabulous Alt. Black artist who uses text, performance, video and other visual expressions to share her art. Her new book, The Splooge Factory, was just released by Frayed Edge Press on November 30, 2018.
In Solidarity,
JP Howard,
MER VOX Online Editor-at-Large
---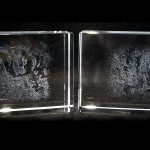 Dodging Bullets in the Unseen World
Curated by Gallery Editor Ana C.H. Silva