Julia Lisella
Charlotte's Zinnias
Each pop of brazen orange or hot pink quivers
as Charlotte's legs cross over her hand-made fence
her basket following in the mess of multicolored swiss chard
and flowering basil. I head the tops of the green stalks
as we talk of the zinnias, amazing and flourishing.
Bees. Their deaths and births discussed.
And chard. How you can freeze it. Charlotte
knows how to enjoy a good day
as they come less often in New England Augusts when you're 83.
How can you Not love the summer? Charlotte says
recommending I take one more short cut
neon bath of zinnia into my dirty fist. And also she's reading a book
about Chekov and how he became Chekov
which is a novel she says, a story about what he might have been
before The Cherry Orchard and also
he never wrote a novel which he'd intended to.
I suppose that's a fact inside the novel I must read.
It's good as we pick more zinnias and chard, my grip switching
from tight to more relaxed
that Chekov might be a person who was not yet himself
ambling, showing up at a person's house to rent it for the summer
in this time or a time before and Charlotte
an old woman in his time or mine. That's
what is left in my head when I remove the small beat up
zinnia that could not stand with the others.
And as I trim the others at tight slants for each end to absorb more water
I am smiling on an August day while the old tip of a most pink
zinnia soars somewhat across the sink.
Shavasana, for Ann (Nov. 11, 1962-August 14, 2013)
We came to the same pose each class,
lowering our rumps onto sticky mats,
stretching one leg and then another,
running our spines against the matted floor
until we were like that, down on our backs:
the pose of death, the pose of the corpse,
corpus. And you were held by one you were told
was dying. And that you were told
was the only difference between us
as we relaxed toes, ankles, let our thighs
roll and fall where they would, breathed
as we fell into our temporary dying.
We rarely lay beside each other– you were on time
and would have a good spot across the room;
I'd be nearest the door where I could hear
the drumbeat of the weight room
or the tv's blaring in cardio. I did not think
shavasana, corpse pose, though it was said over and over,
I thought, after yoga, maybe I can have coffee with Ann.
---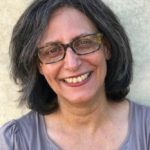 Julia Lisella's poetry books include Always, Terrain, and Love Song Hiroshima, a chapbook. Her poems can also be found in Alaska Quarterly Review, Ocean State Review, VIA: Voices in Italian Americana, Antiphon, Literary Mama, and others. She teaches American literature and writing at Regis College in Weston, Massachusetts.