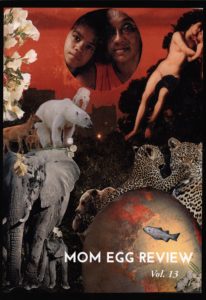 Mom Egg Review Vol.13
With "Compassionate Action" Folio
2015
Paper, 145 pages.
At the center—fittingly, at the heart—of this issue is a special poetry folio, edited by Jennifer Jean, focused on the theme of "Compassionate Action". The poems in this section explore and inspire amelioration through action with good will, understanding, kindness, and generosity. Featuring work by Colleen Michaels, Beth Bosworth, Louie Clay, Megan Merchant, E.J. Antonio.
Editor in Chief Marjorie Tesser
Compassionate Action Folio
Editor Jennifer Jean
Reader Jennifer Martelli
Readers for Vol. 13
Jessie Bacho
Patrice Boyer Claeys
Elizabeth Lara
Jennifer Martelli
Ana C.H. Silva
Becky Tipper
Cindy Veach
Nancy Vona
Paulette Warren
Contributors
Olga Abella
Kristin Agudelo
Nina R. Alonso
E.J. Antonio
Jessie Bacho
Janet Barry
Christine Beck
Lindsey Bellosa
Susie Berg
Deborah L. Blicher
Emily R. Blumenfeld
Emma Bolden
Zachary Bond
Alina Borger
Beth Bosworth
Rosalie Calabrese
Jennifer Campbell
Wendy Taylor Carlisle
Fay Chiang
Patrice Boyer Claeys
Louie Clay
Marion Deutsche Cohen
Karen Craigo
Edward D. Currelley
Lorraine Currelley
Shannon J. Curtin
Kimberly Dark
Holly Day
Sarah J. Den Boer
Sally Deskins
Chelsea Dingman
Carol Dorf
Melissa Eleftherion
Beverly Butler Faragasso
Alice B. Fogel
Laura Foley
Jennifer L. Freed
Gail Ghai
Maria Mazziotti Gillan
Melissa Gordon
Atoosa Grey
Heather Haldeman
Jane Harrington
Lois Marie Harrod
Jamie Lynn Heller
Rage Hezekiah
April Clark Honaker
Louisa Howerow
Molly Howes
Vicki Iorio
Jennifer Jean
Wendy Jones Nakanishi
LaToya Jordan
Jennifer Schomburg Kanke
Donna Katzin
Cheryl Keeler
Hilary King
Sandra Kohler
Judy Kronenfeld
Sara Emily Kuntz
Michelle Robin La
Lori Lamothe
Elizabeth Lara
Anna Lawson
Deborah Leipziger
Lori Levy
Tsaurah Litzky
Renee Beauregard Lute
Charlotte Mandel
Jennifer Martelli
Rethabile Masilo
Grace Mattern
Libby Maxey
Megan Merchant
Colleen Michaels
Matt W. Miller
John Minczeski
Katrinka Moore
Elizabeth Deanna Morris Lakes
Amy Scanlan O'Hearn
January Gill O'Neil
Eve Packer
Dawn Paul
Puma Perl
Virginia Petrucci
Deborah Polikoff
Andrea Potos
Kyle Potvin
Margaret (Peg) Rapp
Francine Rockey
Wesley Rothman
Margaret Rozga
Sarah Sadie
Wendy Scott
Margie Shaheed
Sarah Shamel.
Lynne Shapiro
Ana C. H. Silva
Judith Skillman
Darcy Smith
Meghan Smith
Rose M. Smith
Emily Spencer
Autumn Stephens
Alison Stone
Enzo Silon Surin
Marjorie Thomsen
Meredith Trede
Claudia Van Gerven
Susan Vespoli
Lisa Vihos
Nancy Vona
Anna Lowe Weber
Laura Grace Weldon
Shanna Powlus Wheeler .
Artress Bethany White
Quinn White
Lisa Wiley
Faith Williams
L.B. Williams
Nancy Lynée Woo
Müesser Yeniay