Excerpts from a photo essay by Hester Jones, "CALL YOURSELF A MOTHER."
View more photographs of this essay and more of Hester's other work at www.hesterjones.com.
---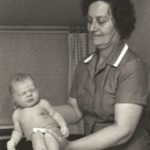 Hester Jones is a British artist, based in London. She graduated from MA Photography, London College of Communication, 2009. Her work is an ongoing investigation into representations of the feminine and culturally constructed gendered identities, from childhood to adolescence, motherhood, and beyond, disrupting the idealized romantic portrayals of femininity as found in Media and more traditional forms of representation. She is interested in the performative and participatory qualities of photography. Hester has exhibited in the UK and abroad, including more recently, Mpls Photo Center Minneapolis, Woman as Photographer: Documenting Life as a Woman 2011, and Home Truths at Brighton Photo Fringe 2010.