Between Greenwich and Cambridge, Cambridge to Arlington
The brightly lit hills rise.
Reds and yellows smart the eyes.
She's bored but tuned in,
marking time with teen divas
Even behind my sunglasses, the color rends.
There are fields still as green as Oz.
I struggle with the flaming hues.
From 313 the Battenkill winds and sparkles,
While we agree on tunes.
Fields and carts of pumpkins and the
Peepers taking pictures, rags
snapping on clotheslines, flags
On doorways. "Dad says I can dye my hair."
A laugh, pause, "Black."
She is "Nutmeg" now
He doesn't know, so subtle
Secretive, we've been, but I don't tattle.
This hair I cannot touch, whose highlights
Burn my eyes, will fade to black.
Nine years holding plus nine for letting go
We are over halfway to gone.
Few more drives like this to count on.
It's not just the leaves, the light
That smarts my eyes.
From 313 we're bound to 7A where
Traffic backs bumper to bumper
From Orvis to Manchester Center
She rocks–stuck on black
And bearing it in the bright face before winter.
---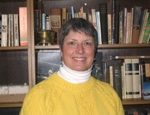 Mary Sanders Shartle is a member of "The Three Poets" with colleagues Marilyn McCabe and Elaine Handley, who have thrice won the Adirondack Center for Writing Literary Award for best book of poetry. Shartle was awarded a 2008 individual artist's grant from the New York State Council on the Arts, a state agency. She was the director of the Saratoga Poetry Zone in Saratoga Springs, New York from 2004 until 2007, hosting poets such as Brigit Pegeen Kelly, Dan Hoffman and Rachel Hadas. She teaches numerous and very popular writing workshops for adults and kids. https://www.facebook.com/pages/The-Three-Poets/112547705477503?ref=ts&sk=wall