Once, a few years ago – I think I was around eight at the time – I was in this foster home and the woman there – Barb was her name – promised to read me the entire set of Little House on the Prairie books. My mom Anna was trying to get clean again and she would come visit me on Sundays. I would cry every time she left. Not that I was happy with her. I wasn't happy anywhere. It was the overwhelming uncertainty of it all. How long until I was back with her? How long until I was taken away again?
Anyway, I was having a lot of trouble sleeping then, but I didn't tell Barb. I usually stayed in my room all night on the window seat, just imagining stuff. I loved that window seat, and its worn pink cushions. I think Barb had sewed them herself. They were kind of lumpy in places and had these frayed pink satin bows on each corner that I liked to run between my thumb and forefinger over and over again as I sat and stared out that window.
One night I was feeling too restless to just sit there; Anna had visited that day and she had been full of the same old promises. I needed a bigger distraction than my own imagination. I tiptoed downstairs into the den and sat on the overstuffed couch. I just sat there for awhile, making sure I hadn't woken Barb up. After awhile, I turned on the TV and flipped channels until I came to a Little House on the Prairie re-run. It was one of the early ones when Laura and her sisters were still young, before Mary went blind. I was only down there for about twenty minutes, when Barb came down and sunk into the couch next to me. Without even meaning to, I snuggled into her when she put her arm around me. She was soft and wearing this pink robe that smelled like it had just come out of the wash. She kind of reminded me of those cushions up in my room.
There was another episode on after the first one, and we watched that one too. I didn't understand why Barb wasn't trying to force me to go back to bed. Even Anna would have. Not so much because she cared, but because she didn't want me around when she brought men back to the apartment and got high or whatever. But Barb just stroked my hair and told me that she had loved the books when she was my age. I didn't even know that Laura had been a real live person. But Barb told me all about her. She had a beautiful boxed set of the entire collection. She brought it out and showed me and even let me hold the books.
For the next three nights I fell asleep to the sound of Barb's voice as she read me the first book. I drifted off imagining I was a little pioneer girl with a Pa who adored me. Then suddenly – it was just like that – I was back with Anna. Barb gave me her copy of Little House in the Big Woods the day I left. I felt bad because it split up her set, but I wanted it too badly to even pretend to refuse. I hope she never found another copy to match her set.
---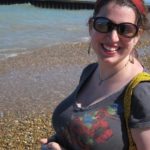 Diane D. Gillette has an MFA from Emerson College, a day job teaching composition to some really great students, and two demanding cats. Her short fiction has appeared in such journals as Hobart, Sniplits, Inch, flashquake, and Citron Review. When she is not busy enjoying Chicago with the love of her life, she is hard at work on her first novel. For more of her work or to contact her, please visit www.conversingwithcats.com and www.digillette.com.