You have trained your restless haunches
for eight months now, within me, growing by skull
and brow, ribs and toes—simple kicks and I contain
the world.
An oak tree's tangled loin inhales,
a scratch of breath drawn over bark and knots.
The exhalation rides the limbs, slides over leaves
to shake an acorn free—it strikes the grass
and gasps.
A lover gasps within a woman,
shakes a stigma to the floor—she asks for more.
Lava gropes volcanic slopes to harden
and expand them, and everywhere explosions
rock the world. A bomb begets a swaddling cloth,
a baby's cry mushroom-clouds the sky
and rains upon the forest, urging fungi
into sensuous life.
A shell thin as eyelids
holds a sensuous world of fluid thickening
into flesh and hollow bones, ready to blink
a falcon into flight. Its beating feathers
echo over time, beating drums around a fire,
lighting red-rock skin. Only those notes
know of existence on the wind.
Yet within,
I've a heart raw as zebra meat staining manes,
and two souls thirsting to return to muddy creeks
on shameless thighs, the running-grounds
of plains newly-born by fire. In one month's time,
I will release you from this fortress
to the world you birthed me into knowing.
---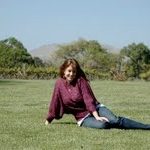 Alice Stinetorf received her Bachelor of Fine Arts from the University of Evansville in 2008. Her poems and short stories have previously appeared in Harpur Palate, The Ohio River Review, and Prairie Margins, among other publications. Alice currently lives in Ohio, where she is working to master English both in her pool game and her writing.