"Your Mom Has A Rockin' Bod".
That's what the handsome surfer looking dude told my eleven- and seven- year old daughters about me – their forty-eight year old mother.
It was December 2004.
Seven months after my husband said he wanted a divorce.
Five Months After He Moved Out.
Four months after a Palm Springs Hotel offered me an irresistible package deal for a Christmas stay.
Three months after I looked up an old boyfriend David… who happened to be living in Palm Springs.
Ten minutes after being in the hotel hot tub in an unusually cold California December.
The night before the Tsunami hit.
Yes. 2004 was the year the earth shifted – and life as I knew it changed forever. I never could have imagined then that I would be the woman I am today; smarter, stronger, happier. A better me.
Yes, my husband of fourteen years had been living one of those double lives you read about in People Magazine or hear about on Oprah. I was one of those smart, together trusting women who were duped and about whom people ask, "How could she not have known"?
So in September, when the offer came in the mail: "Spend two nights at Christmas in our luxurious hotel for this amazing discounted rate and all we ask is two hours of your time to look at our time share program" – I jumped on it.
I could not bear the thought of spending this Christmas holiday in the house where we'd spent so many holidays as a family of four, so I packed up the three of us and took off in the family car for the two hour trip from Los Angeles to Palm Springs. We were shattered, fragile, and raw.
On a whim, I had looked up an old boyfriend who I'd heard was living somewhere in Southern California. We met when we were both actors living in New York – my hometown. We fell in love and had traveled from New York to California when I was thirty years old, a month long cross-country journey that was just fabulous. We lived together for a while in San Diego – his hometown. He was the only other man I had ever lived with. It didn't work out though, because he did not want to get married. We parted on good terms. The last time we spoke was when I called to tell him I was pregnant. Always into astrology, he told me I would have two girls, and that my marriage and motherhood would be the biggest challenge I had ever known. Freaky. When I called him out of the blue and said guess who this is – he went through several women's names before I cut him off with "no it's Amy" – which was met with a shocked but happy "really! Told him about the divorce, asked him where he was (he had never married) and when he said Palm Springs, I said "Gosh, what a coincidence, I'm gonna be there in December".
When my girls and I got to the hotel, the "luxurious" room was teeny tiny and the weather was unseasonably cold for California and by the time we got settled it was getting dark but the whole drive I had promised we would go into the pool. So we did. I had ordered a glass of wine for me, and hot chocolate for the girls – poolside – when we were joined by this cute guy. It was just the four of us. A very different four of us then we were used to. I chatted politely, feeling so completely out of my element – discombobulated from the entire "new normal" I was forced to accept so I didn't even notice that he was hitting on me until his comment to the girls about my "rockin' bod". "Is this guy actually hitting on ME?? In front of my girls??" I was incredulous, not only that I was getting hit on but in front of my girls? Then we learned that his girlfriend was upstairs. Ugh.
"Well, nice chatting with you I said", self-consciously climbing out of the pool, ushering the girls away while he leered at my "rockin' bod".
From that moment on, the rest of the weekend became the "Your Mom Has A Rockin' Bod" weekend. My eleven year old – who always kept her feelings inside – seemed to enjoy it all. But my seven year old – who always wore her heart on her sleeve – did not. She was just sad. So so sad.
The plan was to meet David in the Hotel Lobby and have dinner together in the Hotel Restaurant. We had not seen each other in seventeen years. He looked different but he was – and is – still the same sweet man. A man who would never – as my mother told me in her dementia – never hurt me. She was right.
I told the girls the truth, that we were seeing an old friend who lived in town who happened to be an old boyfriend of mine. As soon as we sat down to dinner, my eleven year old asked him "Are you gonna marry my mom"? Oh god. She then proceeded to tell him all about the "rockin' bod" incident. I wanted to die. After dinner we all went up to the teeny tiny room and for about an hour, played games. I played Scrabble with the eleven year old and David played Go Fish with the seven year old. It was OK, but so so strange.
The next day I went on the "two hour Time-Share tour". What a nightmare that was. "Where do you see your family vacationing next year? What does your family look for in a vacation"? How do you spend your leisure time as a family". Stuck in a little office with a stranger whose job it was to get this information out of me, I could barely hold it together as I told him that I could not answer any of those questions as our "family" was in a "transition". Those two hours were the hardest part of the entire weekend.
December 2010 is coming and I am ready. We have been through hell and back. Their dad, after succumbing to his addictions, losing his job, and attempting suicide, lives in another country. And like anyone who has experienced loss, I am so so so appreciative of what I have; my spirit, the love and respect of my precious children – now thirteen and seventeen and doing remarkably well thanks to therapy and stability and lots of love. My daughters have learned invaluable life lessons. And unlike so many women who lose themselves in their marriages and motherhood – I have found myself. A self I never would have re-discovered and re-invented if I were still married to that man. I am remarkably healthy – and – thanks to years of Pilates (and chardonnay), at the age of fifty-four I still have a Rockin' Bod!"
---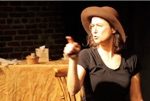 Amy Simon is a single mother of two glorious and "challenging" teenage daughters, a self-appointed Cultural Herstorian, an actress, playwright and producer. Her first play "Cheerios In My Underwear" holds the record as the longest running solo show in Los Angeles. Her new play She's History! the first in a series about women who make and made history, also a solo show, opened in 2010 and will return to the stage for Women's History Month – March 2011. Amy is working on more shows, a school program and a book and is excited about turning the world on to all the fabulous females no one knows anything about. Visit her website www.sheshistory.com