Caits Meissner
The Summer Phife Is Born
     A Cento made of lines pulled directly from Cheryl Boyce Taylor's Mama Phife Represents
The summer Phife is born
we have the world by its chin.
Say something sweet about my child
slick as rain puddle, we fall in love with
that little boy, my little transistor radio
will cause a rebellion!
That boy entered my house
by the back door,
twin brother come walking unshaven—
we listen—
swallowed my joy then made a poem—
we listen—
first gold album, sugar will rise, the lushest sound—
we listen
What messages shall I take from this flight?—
We listen listen to his music over and over—
the song Sunshine on side B is tangled
with bad boy on side A—
we listen—
waiting to flower, tremble at his sass—
we listen—
my heart speeds up      damn
it will rescue me will sing pretty
delightful boy.
The press is hounding us.
ny sweet boy skin of smooth bamboo—
we listen.
A bright orange light struck the world!
You Ali boxing glove, you fit my heart.
Last night a rainstorm called me bitter.
I said, "No!"
Good God the love that poured in!
Sweet bitter honey praising his hip hop gods—
We listen.
Love you Malik.
We listen:
Caribbean green avocados / blue moon beer
black-eyed susans / spelt bread & ginger jam
two tulip bulbs / ripe plantains
A kidney instead of a baby.
A kidney instead of a baby!
Fire engines and happy people clapping.
apricot begonias / sage white candles
and florida water / purple irises / fried bake and bacalao
three shots of whiskey / poetry / boiled
cassava with fish and onion stew
cherries and watermelon / dried turmeric leaves
We listen.
Eyes glossed over with tears, we listen for his laughter—
Malik
Malik
Malik Izaak
We love you, Malik.
Caits Meissner's poems, comics, nonfiction and curation have appeared in The Creative Independent, The Rumpus, [PANK], Harper's Bazaar, Adroit, Literary Hub, Split This Rock, Bust Magazine, The Normal School, The Guardian and Oprah Daily, among others. As Director of Prison and Justice Writing at PEN America, Caits edited The Sentences That Create Us: Crafting A Writer's Life in Prison (Haymarket Books) Her latest project is Flowers For Linda, a podcast about creativity and grief.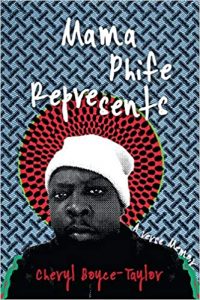 Read a review of Cheryl Boyce Taylor's Mama Phife Represents.
Book info here.