An Interview with Debut Memoirists Lauren Kay Johnson and Paige Towers
Interview by Emily Avery-Miller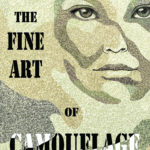 The Fine Art of Camouflage by Lauren Kay Johnson is a debut memoir that explores what it means to be a woman in a war zone, to be a parent or child in a military family, and how the stories we tell can both expose and obscure the realities of the power and trauma of war.
I ache for the woman who [jumped]right back into the flurry of Wife, Mother, Cook-to-order Chef, Taxi Driver, Schedule Master, Center of Gravity . . . I realize I've spent my life projecting my own emotions on all my post-Desert Storm memories. I saw the infallible hero that I wanted to see. I saw what I was allowed to see; because we needed her, and because she knew no other good option, Mom spent twenty years swallowing her trauma. Until I got back from Afghanistan. Until we started to peel away the scar tissue together. -from The Fine Art of Camouflage, Lauren Kay Johnson, MilSpeak Books, March 2023, 246 pp. ISBN-13 979-8985794168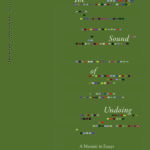 The Sound of Undoing: A Memoir in Essays is a debut by Paige Towers. Each essay centers on a sound— "an imitated ocean" or "a split throat" — that launches a multivalent exploration of the forces that have shaped the author's life and our changing world.
…I started to debate what silence really is. Beyond blood, saliva, acid, and oxygen, my inner voice also became so disruptive, that, for being in a silent room, the whole experience was very loud. No, my thoughts weren't physically communicated by an airstream forced through my voice box, over my tongue, past my teeth, and out into the atmosphere. But even though only I could hear the pitch, tone, and timbre of my own voice within my head, wasn't it still sound? –from The Sound of Undoing: A Memoir in Essays, Paige Towers, University of Nebraska Press, March 2023, 183 pp. ISBN-13 978-1496232878
In conversation, the authors talked about the whispers and explosions that shaped their youth.
Lauren Kay Johnson
Every decade of my life has, to some degree, centered around the military. The first decade was about my mom's Army service; when I was 7 she went to Saudi Arabia. The next decade was when I signed my military contract and went to college on an ROTC scholarship. After that, I did my active duty service and went to Afghanistan.
Paige Towers
I've always looked outwards to my environment, and especially my acoustic environment. I was playing around with things, little vignettes about different sounds that I was hearing and then I realized that I had large enough vignettes that they were starting to connect together. That gave me some purpose and a framework.
What is it like to write about the younger years of your life?
Lauren Kay Johnson
I've been working on this for 12 years. One of the challenges is not to lose the immediacy of the things that I was writing just a year or two removed from the experience, but also to be mindful of the power of reflection and having more distance.
Paige Towers
When it was out on submission, I was struggling with feeling like the work was really cringy because it had been all these younger years. Which isn't to say that I'm not proud of it. I feel like my perspective is a little different. A big part of that, too, is having a baby. It's such a massive identity shift. I wrote this book. I published it, and now I'm ready to move on being this new person.
You became mothers around the time of publication of your books. How has that impacted the way you look at your writing?
Paige Towers
Viewing it more from the eyes of a parent, I'm now able to have more sympathy for myself as a child. The writing has helped me understand that child more and what she was going through.
Lauren Kay Johnson
Early motherhood became the epilogue for my book, with the withdrawal of US troops from Afghanistan, which was a powerful place for me to reflect on my service, and how it must have felt for my mother to serve.
In some ways, your insights could be more compelling and instructive for a parent-reader than the typical mom-to-mom advice might be, because you bring forth the emotional immediacy of the child's experience, with the reflective maturity of an adult.
Lauren Kay Johnson
I think about how my mom had to grapple with what she was going to share with us kids, and I think about the stories I'm going to tell my kids. How do you balance that desire to protect your kids with the desire to be open and honest, and to help them recognize their privilege and responsibility in the world?
Paige Towers
I look back at the little hurts that I experienced as a kid and I think I understand those more, both through the process of writing and making sense of them and having this view of a parent. [While revising] I was mindful of examining the truth in a way that is honest and creates meaning without being too judgmental. It felt instinctual. And brave. Because it is rather terrifying. No one wants a memoirist in their family!
Lauren Kay Johnson
[Laughing.] I kind of harbor the fear that my kids will become writers, too.
Kidding aside, do you hope that your children will read your books some day?
Paige Towers
I'd be completely fine with my son reading my stuff as he gets older. I feel like that would be kind of a compliment. That would be really sweet. I hope that it gives him some more awareness of why I am who I am.
Lauren Kay Johnson
I hope they read it. I'm proud of it. And it's been a big part of my life for 12 years. I want them to know that part of me. That is such an important way to have a meaningful relationship with your children, just being vulnerable together and letting them know, it's okay. How much more vulnerable can you get than baring your soul in a memoir?
Paige Towers
From a writerly perspective I hope one day my son will be able to see my trajectory and watch me grow in my own career. Or not. Maybe he won't care! I'm okay with that too.
A memoir offers a unique opportunity as a tangible legacy, both of your childhood and also of your early writing careers.
Lauren Kay Johnson
I have twin two-year-olds. I have been at a higher stress level than I would like to be at this juncture of their lives. I'm also proud to be a mom and also working in a job that I find meaningful, and to have this book. I want to talk to them about that someday.
Bios
Lauren Kay Johnson grew up in a military family and served as an Air Force public affairs officer and award-winning Department of Defense journalist, deploying to the Republic of Mali and Afghanistan. After receiving an honorable discharge, Lauren earned an MFA in Creative Writing at Emerson College in Boston. In addition to her debut book, The Fine Art of Camouflage. Lauren's work has appeared in The Washington Post, The Atlantic, Boston Globe Magazine, Glamour,  and several anthologies. Lauren lives with her family outside Seattle.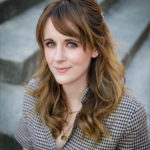 Paige Towers is the author of The Sound of Undoing: A Memoir in Essays, published by the University of Nebraska Press in March 2023. Her second book, a work of literary journalism, is forthcoming from the University of Iowa Press in Spring 2025. She earned her MFA in Creative Nonfiction from Emerson College and has received support from Bread Loaf, VCCA, The Sustainable Arts Foundation and others. Her work has appeared in The Washington Post, The Guardian, McSweeney's, The Harvard Review, North American Review and many other publications. Her essay, "The Sound of an Imitated Ocean," which appeared in Cream City Review, was nominated for a Pushcart Prize and listed as a Notable Essay in Best American Essays 2020. Although Paige is originally from Iowa City, she now lives in Bellingham, WA.
The Fine Art of Camouflage jacket by Michelle Bradford Art
Lauren Kay Johnson portrait by Becky Fuller Photo
Sound of Undoing cover image Stocksy/The Laundry Room
Paige Towers portrait by Clinton James
Emily Avery-Miller writes essays and criticism. She is an Associate Teaching Professor in the English Department at Northeastern University. Her work has appeared in Art New England, Foreword Reviews, and other publications. She earned a BA in Environmental Studies from Vassar College and an MFA in creative nonfiction from Emerson College.