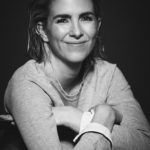 Review by Melanie McGehee
a petit mal, the debut nonfiction work of visual artist and poet Ana Maria Caballero was awarded The Black Spring Press Group's International Beverly Prize and was a finalist for AWP's Kurt Brown Prize. A memoir documenting a mother's journey towards a diagnosis for her young son's seizures, it defies structural norms.
Caballero's unique stream of consciousness captures multi-tasking spirit that is familiar to any mother, grammar rules be damned. In its first sentences, we are promised a "disruptive" presentation. I will give you a hint: the "key" provided at the beginning of the book is essential. Do not skim pages!
Key
Vs. =
& =
x/y =
( ) =
At the onset, her short phrases, abrupt subject changes, and lack of consistent punctuations surprised my ears. Yet it also embodied the style of a physician dictating notes. Clinical. Precise. Detached. This helped me believe Caballero's encouragement made in that first paragraph. She promises me a balanced experience. "Do not stop reading for fear this will be sad. It will not. Not the entire way through." Balance is Caballero's literary strength as she combines poetic phrasings, scientific diagrams, and personal photographs. With a petit mal, we are handed a personal scrapbook of sorts and we are able to come close to her individual tragedy without being overwhelmed by it.
It is also an analysis of Western medicine without being a total critique. About a third of the way through the book, Caballero shares with her husband that "Western medicine needs to reconnect with God. I think at a moment in history it needed to dis-connect, in order to advance. But now it needs to reconnect. In order to advance." Caballero, a first-generation Colombian-American, bridges worlds for us, visiting a myriad of specialists along with "witch doctors" and discounting no one.
This full experience is possible in part because Caballero shows herself in her multiple roles. She is an attentive mother, an adoring wife, a grieving daughter, a faithful friend, an astute business woman, an accomplished poet, and an aficionado of good and bad coffee.
At 300 pages, this journey may feel a bit long for the reader. It is a hard journey. A complex journey. A journey with valleys, mostly valleys, and a few hilltops. A journey that twists and turns. A journey that encompasses many places – NYC, Miami, Colombia, Cuba, Ecuador. A journey of medical mystery and diagnosis, ever analyzing symptoms, questioning protocols and medications. A journey of science and a journey of philosophy.
But at the end, I inhaled deeply and exhaled, a great sigh of relief. I do not know what emotion her ending brings, but I know that, as promised, it is not sadness. Like Caballero, I returned to that feeling of happy that she described early on, when explaining grief about her father's situation to her young son.
But even though this sounds like I had a lot of sad inside. I did not. Not everywhere. You were born. And your daddy and I were so happy. Happy not sad. Happy on top, sad on the bottom. Happy because of you. A lot of happy inside. This can happen, sad and happy at once. Happy can win, but we have to help it. We have to say it. Like this, I am happy because of boy. Because of boy, because of his daddy, because of me, because my mind can say, this is good.
Like so many experiences of motherhood, Caballero brings us to a partial completion that welcomes the next stage of life, and the finish of one gives confidence and hope for the next.
a petit mal, by Ana Maria Caballero
Eyewear Publishing, May 2023, $21.99 [paper] ISBN 9781915406088
Melanie McGehee writes about family and faith. She has been a regular contributor for a local mom's blog. Her love story was published in A Cup of Comfort. Her most recent poetry was published in SC's 2022 fall lines. She is a graduate student in Wilke's University's Creative Writing program and is working on a memoir.