Margo Griffin
How to Signal a Ceasefire During War
I slipped my feet into the warm, pink, fuzzy slippers my daughter Maura bought me three Christmases ago, before our war began and back when she liked me. The gift was sweet and pink like cotton candy and as soft and cozy as a bed of cotton balls, a stark contrast to the bitter, sharp-edged words my daughter has gifted me with since. I sighed, rolling my eyes as I puttered into my kitchen, careful not to pound my heels like a frickin' elephant as I passed her bedroom door.
Filled with water and ground beans, I set the percolator on the stovetop and turned up the flame. Soon, the ground coffee beans mingled with hot water, and the coffee's nutty aroma filled the kitchen. As I waited for my morning's steamy beverage, I scooped kibble out of the dog food bag for Ruckus, the adopted rescue Maura begged for after her father left. She had promised to walk, pooper-scoop, and feed the dog daily if I agreed to bring him home, yet not long after he entered our house, I found myself Ruckus' sole wrangler and personal chef unless Maura had another one of her bad days, when she would hole up with him in her room. Then, coffee finally in hand, I futzed with the radio dial and searched the stations for a weather-related traffic update ahead of my commute. I wanted to head out early and avoid another early morning blitz. But a loud buzzing sound from Maura's bedroom alerted me that I was too late, and I cringed at the creak of her bedroom door's hinges. Moments later, there was a click of a switch and an exaggerated groan just before Maura slammed the bathroom door for effect. Loud music played behind the wall as Maura showered, Violent Femmes, I thought, and I clenched my jaw with each beat and note of the young singer's angst. And then the sound of the water from the shower stopped, and I braced myself for her inevitable missile.
"Where are the big white towels?" Maura screamed out from behind the bathroom door.
"They're in the dryer!" I called out, "But there is a blue towel under the sink."
"I hate those!"
"She hates those," I muttered to Ruckus, who looked up and cocked his head to the side as if puzzled. "But at least she loves you, boy," I said as Ruckus pulled off one of my slippers from my feet and began to chew.
"The blue towels suck! They're not as warm or thick as the white ones," Maura complained as she exited the bathroom.
"Just five more days before she goes back to the dorm," I whispered to Ruckus.
"Ruckus, stop!" Maura yelled at the dog, then she turned to me and asked, "Why would you let him do that?" pointing at the slipper that hung from his mouth and shook her head in disgust. "Oh, and by the way…."
Uh-oh. I placed my now-empty mug into the sink when–BAM! Fuck! Here it comes….
"You never paid my club dues like you promised," Maura stated, tossing her live bomb into the kitchen.
"When was it due?"
"Last week!"
"Jesus, Maura, you haven't given me a bill, invoice, or the due date! You never even asked me for a check!"
Maura's fingers splayed like guitar strings across the top of her ribs as she grabbed her chest, and then she squinted her eyes and shot her salty verbal daggers in my direction. "You always promise you'll do things, but don't!"
"That's bullshit and you know it."
"When Dad lived here…."
"Don't, Maura. Just don't."
I don't know the precise moment my daughter saw me as her enemy, maybe sometime between the start of puberty and her father's premature exit from the marriage.
"And where's my uniform? I asked you to wash it."
"It's in your…."
"And where are my white and blue varsity socks?"
"I put them…."
"Did you leave my sneakers in your car last night?"
"Maybe, but…."
"I need them this morning! You never listen!"
In under two minutes, Maura bombarded me with four different complaints when translated into teenage anger mean you suck as a mother.
I surrendered and headed to the safety of my bathroom as Ruckus followed close behind with my now damp and less fluffy pink slipper hanging from his mouth. I bent over and scratched Ruckus' ears until he settled down on the shaggy bath mat, and then I gently wrestled the slipper from his mouth and placed it on the edge of the sink with its match.
"I'm not such a bad mama, am I, Ruckus?", I asked, and then retreated into the shower stall for a good cry, worried my daughter and I might never see a truce.
As hot water camouflaged my tears, I slumped my body against the wall and felt grateful for my pink-tiled bomb shelter. And then, just as I took in a long, deep breath, I heard the sudden jingle of the doorknob and froze. I closed my eyes and braced for the next assault, but instead, I heard the door close a moment later.
I peeked out from behind the curtain, and my eyes fell upon one of the thick, fluffy, white towels that Maura likes best. She had placed it on the edge of bathroom sink for me and it draped off the edge a bit like a flag, and I thought, yes, Maura, I accept.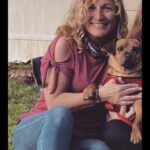 Margo Griffin has worked in public education for over thirty years and is the mother of two daughters and to the best rescue dog ever, Harley. Margo's work has appeared in interesting places such as Bending Genres, Twin Pies Literary, The Dillydoun Review, Maudlin House and Roi Fainéant Press. You can find her on Twitter @67MGriffin.