Marin Smith
Just One Last Question Before We Say Goodnight
By the way, Mom, she says, where did life come from?
Well, I say, unsure where to start,
There are many cultures with many answers to that question.
Some people think, I say, there is a thing called god. I
stammer, feel nervous, lowercasing the g,
peeling out past the word.
Others think, I say—but I'm lost, try to start over,
I have no idea how to answer.
She turns my words over like a rock in her palm, and with
the swiftness of a scholar and some pity in her voice
says, but Mom, don't you know that there was a big, big explosion
and then we evolved?
You're right, I say, and I wonder if
this is what motherhood is:
a daughter asks you a question and answers it better than you do,
with just as much terror and mystery—
but without any shame.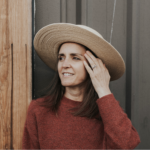 Marin Smith writes, parents, bakes bread, and gardens in the Columbia River Gorge in Oregon. She holds an MA in English from Cal Poly San Luis Obispo and has presented at AWP, the Northern California Writing Centers Association, and the American Literature Association. Her work can be found in Dead Flowers Poetry Rag, Considering Disability Journal, Elephant Journal, Thought Catalog, and forthcoming in Split Rock Review.