Bethany Jarmul
A Moment, A Memory
I'm sitting on a porch chair on our back deck, which is covered with autumn leaves. Near my feet, my daughter crawls amongst them—shuffle, crinkle, shuffle, crinkle. The wind whips my hair, swirls leaves around us. My daughter plays with a plastic, toddler-sized motorcycle, spinning the doo-dads and smacking the buttons with clumsy fingers. She waves a leaf at me, like a banner. "Hi-eee, Hi-eee." I wave back, pull a leaf out of my long, golden hair.
Moments die too, like the leaves. They pass furiously from future to present to past. This moment is a green chlorophyll-stuffed bud, just uncurling. When my daughter is five, it'll be a golden-orange beauty shimmering in the sunlight. When she's 25 and it's crinkly brown, layered with thousands of others on the back porch of my memory, I hope I can find this one. I hope I can pluck it from the pile, hold it up to the light and admire its life-giving veins.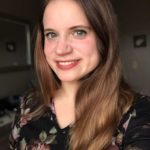 Bethany Jarmul's work has appeared in more than 50 literary magazines and been nominated for Best of the Net and Best Spiritual Literature. Her chapbook This Strange and Wonderful Existence is forthcoming from Bottlecap Press. Her chapbook Take Me Home is forthcoming from Belle Point Press. She earned first place in Women on Writing  Q2 2022 & Q2 2023 essay contests. She lives near Pittsburgh. Connect with her at bethanyjarmul.com or on Twitter:@BethanyJarmul.