Kristine Kopperud
When you ask if I miss Dad
I know you're asking if he was ever even here, with me, but more, with you.
I know that behind the door to your room, which is missing its stop for the number of times you've slammed it, you sometimes still finger fraying pictures of him,
your young memory scrambling to unquestion what you see in them and what you don't see of him now,
to protect the stories you peg to those pictures from the disjointing I forced on you, unwillingly but as naturally as dreaming, in making you choose to believe what was not right.
I know you look around the edges of those frames for truths,
of your toddler chub soft in his lap, both of you looking through wire-rimmed glasses at the board pages of Barnyard Dance,
of him wading with you into too-cold Maine waves, your red Crocs and pinky fleece pants clutched to his chest, because you love water more than sugar,
of him kneeling with muddy pawed dogs, those living and those buried now back behind the raspberry bushes, that we would each ransom anything for, without question.
I know you need to know if the man who peered into your NICU incubator,
reaching his hand through monitors and tubes to warm your preemie skin, so thin he could feel your heart and you, I'm sure, could feel his,
knows you miss the fathering you hope he meant you to have.
I know you need me to love him so that you can go on doing it, too.
And for you, my love, I will.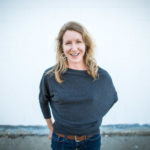 Kristine Kopperud is a mother, writer, editor, and content strategist in west-central Florida. Prior creative nonfiction has been nominated for a Pushcart Prize, won the Diana Woods Memorial Award for Nonfiction at Lunch Ticket and been named the flash nonfiction winner at Sweet: A Literary Confection. Flash nonfiction and essays have also appeared with River Teeth, Creative Nonfiction's Sunday Short Reads, and in several anthologies, including the Main edition at Hippocampus.