Elisabeth Adwin Edwards
Nectarine
When they appear at the market, heaps of them, shoulder to shoulder in their smooth, sunny jackets, summer's in full swing. My mother turns one after another in her long fingers, scanning the skins for a bruise, a blemish, the slightest indentation. At home, after washing, she places the chosen ones in a brown paper bag and leaves them on the windowsill. In a day or two, in her cupped palms, they give in, just a little. With a paring knife, she slices one into sections. I watch her lay them on the plate, those bright grins with bloodied teeth we'll both devour.
The July air refuses to cool, crickets continue their frenzied stridulations. She begins to the clear the table of three plates licked clean of flank steak, salad. Nestled against the half-drupes of my adolescent chest, I carry the bowl that held our dessert of fresh nectarines; with her free hand she grabs the second wine bottle, now empty, by the throat. My father has nodded off in a deck chair, his head tilted back against the porch wall as night darkens his open mouth. In the kitchen, Mother takes the bowl, raises it to her lips and drinks the nectarine syrup at the bottom, a kind of sacrament.
More than thirty summers later, the act of swallowing has become difficult for her, sometimes impossible. But I want to honor her request. I find a near-perfect specimen, bring it to her. She lifts it to her nose, and breathes in. I wait by the bed. She unfurls a few fingers as if to divine something from the seams. If the flesh clings to the stone, she'll hold on? If it frees itself, she'll ask for the pentobarbital? I need to see her bare her teeth in a wild grin and bite, watch the juice drip down between her fallen breasts, her mouth smacked with sweetness.
---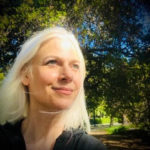 Elisabeth Adwin Edwards's poems have appeared in The Tampa Review, Rust + Moth, Tinderbox Poetry Journal, The American Journal of Poetry, A-Minor Magazine, and elsewhere; her prose has been published in Hobart, CutBank, On The Seawall, and other journals. Her work has been nominated for Best of the Net and a Pushcart Prize. A native of Massachusetts, she lives in Los Angeles with her husband and teen daughter in an apartment filled with books.