Kyle Potvin
The Clock Turns Back
1965
Birth mother, my first mother.
Small, startled breaths.
How did you learn
you were pregnant?
*
In the cruel November air,
did you pray, hand on womb,
dread pounding
your unmarried body?
*
I imagine delighted
rebellion had risen inside you,
far from home,
in the hours, days, months before.
Freedom. Freedom. Freedom.
Ticked a clock.
Until it stopped.
*
Did you hear that year the death list of Washington women included1:
Mother of three who died during an abortion attempted by a 45-year-old practical nurse, police said.
26-year old who died of an air embolism after an attempted abortion, police said.
Suburban Maryland housewife, 26, who died from an infected abortion, police said.
*
This was popular:
a rubber catheter attached
to a straightened wire coat hanger.
*
Choice2
\ ˈchȯis \
: the opportunity or power to choose between two or more possibilities : the opportunity or power to make a decision
*
Birth Mother,
as a young woman, I carried
a sign to the Mall, "We Won't Go Back."
*
Finger on the slim spoke of the clock.
Watch it roughly pushed
back. An hour,
a decade. Three.
*
Once there was a lively woman-girl
who could have done any thing.
Then there was not.
*
I would have understood
if you'd made a different choice.
1 Elisabeth Stevens, "When abortion was illegal: A 1966 Post series revealed how women got them anyway," The Washington Post, June 9, 2019.
---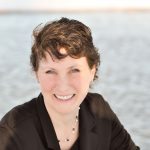 Kyle Potvin's debut full-length poetry collection is Loosen (Hobblebush Books, 2021). Her chapbook, Sound Travels on Water, won the Jean Pedrick Chapbook Award. She's a two-time finalist for the Howard Nemerov Sonnet Award. Poems have appeared in Bellevue Literary Review, Ecotone, and The New York Times.