Welcome to the March 2022 MER Online Folio:
Release
In her poem, "Summer Arthritis Lessons," Chrissy Martin writes, "We speak in this language of trinkets and remedies / that say I know what causes you pain." The poems in the MER Online March folio explore these "trinkets and remedies" for release, relief, and agency. The poets examine everyday objects and infuse them with poetry, magic, and perhaps something sacred, worshipful. Tzynya Pinchback creates a holy space when she writes, "Before the knowledge of pain, man heard the call of sugar. / Skin of innocence shed, Eve built an altar to sugar." In "Mother's Day," a poem by Marie-Ćelie Agnant (translated by Danielle Legros Georges), a woman goes "to church to invent a prayer/like a shout."
The poems, while inhabiting the recognizable world, transcend it. In Heidi Seaborn's "Searching for Signs of Life, a Zuihitsu," the speaker tells us, "On Google Earth, I drop in on my children." In other words, the poems "anti-gravitate," as Chloe Martinez claims, and the artist
. . . Secures against the wind
a little cup of pungent
turpentine. Three sable brushes. Begins.
This "little cup of pungent" makes these poems richer, creates a physical tension, a burn in the hands. "We roped with words," Jessica Cuello writes, "what could not rope." The tension between release and tethering adds to the complexity. Sheila L. Carter-Jones, in "How a Body," attempts to encapsulate "what is left of the giving" in her descriptions of broken porcelain dogs, which stand as "a man's perseverance" and a "woman's stamina."
N.F. Kimball writes in "The Burial,"
In this
dream I had no body. I had no neck. I had no voice.
Wool cloaked the parts of my country where I sat, my
placenta & my flower.
The voices in these poems are incantatory and talismanic. They create space in a heavy world; transcendence where these was limitation. The poems both "enrapture" us and allow us to move beyond their confines.
We hope you, too, find release in them.
Jennifer Martelli and Cindy Veach
MER Poetry Co-editors
Poets
Marie-Célie Agnant (translated by Danielle Legros Georges)
Sheila Carter-Jones
Jessica Cuello
N.F. Kimball
Chrissy Martin
Chloe Martinez
Tzynya Pinchback
Heidi Seaborn
Images
Amy Dignam
Maternal Landscape 1
Maternal Landscape 2
During the pandemic I took the executive decision to train to become a birth doula. Many years I have been thinking about this but growing and caring for a family of 5 hasn't left much time and space for me to pursue this career. As if home schooling 3 children and being with them 24/7, working on 3 different jobs and taking care of the house wasn't enough, I consciously decided to push myself to the max, determined to make the most of this weird time and with the vision of coming out to the other side feeling victorious. That was my act of rebellion towards a society that quickly saw me reverting back to the 1950s. 'I'm not doing it', that just wasn't an option. As some kind of form of escapism or self-care (or both) I decided to introduce something into my life that would have allowed me to concentrate on my personal growth but that would have also served me as a way to make and take space within my domestic realm and exist and not just survive. From my doula studies and my Maternity Voices Partnership work, I felt inspired and produced new work that somehow included feelings of isolation as well as perspectives of maternal social perceptions. It included the tension of living through a pandemic for pregnant women and people but also the hope of a quick and happy resolution. 'Maternal Landscapes' are complex spaces of intimate values where the imagination somehow increases those values within its reality. The images transcend our collective memories of all the spaces in which we can find or give shelter but where we can also often encounter conflicts and apprehension.
---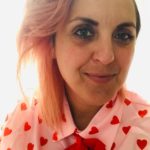 Amy Dignam  is a visual artist and feminist. Her work, mainly autobiographical, focuses on domestic disorder, maternal mental health, maternal identity and body, power, and dysfunction. She uses different media to investigate these topics; drawings, photography, video, performance and installation. Shortlisted for the Birth Rites collection in 2017 her work has been shown internationally. Italian born Amy moved to London in 1998 and graduated from Central Saint Martin's college in 2005.