Sheila L. Carter-Jones
HOW A BODY
Get your wife a little something the rich lady
said at a rest-stop along the turnpike, when
my father chauffeured her all the way to
the nation's capital.
He picked out a porcelain boxer dog. Umber
brown with two pups, and the rich lady paid.
Each pup was connected with a metal loop
that held a small chain linked to the mother's
collared neck.
What is left of that vintage set is one crippled
pup with three whole legs. A hind one gone
up to the tibia. Disappeared like a man taken.
Time hidden away explained by being ignored
as if it didn't matter or mattered too much.
Though the break is smooth and shows creamy
porcelain flesh beneath, the appearance of
rawness reminds me that the body holds hurt.
Keeps absence like an open wound that never
heals.
After wiping its dusty coat, it shines as if
my father had just brought it home brand new
to my mother who loved trinkets. She placed
the three dogs on the homemade shelf mounted
on the wall. A gift to be awed and out of reach.
Beyond what we could afford.
Looking at the pup doesn't make me feel sorry.
I keep it because it charms like a coveted heirloom.
It is what is left of the giving. A lineage that even
in its deformity stands as a man's perseverance.
A woman's stamina. What need not be spoken.
The hind leg is a stump, but placed a certain way,
the dog can stand on three legs. Though it looks
as if it might buckle, the body makes do. What's
missing is not missed. It is a way to understand
that torn away is not dead but life rearranged.
---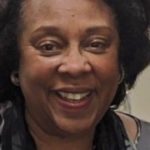 Sheila L. Carter-Jones is the author of Three Birds Deep, the 2012 winner of the Naomi Long Madgett Poetry Book Award judged by Elizabeth Alexander and the chapbook Blackberry Cobbler Song.  Her chapbook Crooked Star Dream Book was named Honorable Mention for the 2013 New York Center for Book Arts Chapbook Contest.  Sheila has been described by Herbert Woodward Martin as one who writes with immediacy of tone, voice and language. She is a fellow of Cave Canem, Callaloo Creative Writing Workshop and a Walter Dakin Fellow of the 2015 Sewanee Writer's Conference. Her poetry has been published in various anthologies and journals. Grace Cavalieri, Poet Laureate of Maryland, describes her poems as calling out against poetry of persuasion and contrivance. Sheila holds an MFA from Carlow University and currently facilitates writing in  their Madwoman in the Attic Program.