Lao Rubert
Asking Your Permission
       for Maryam, born Feb 5, 2020
You've arrived.
Ears, elbows, fingers
precisely in place, controlling your world
from a tiny perch.
The news is blaring
as your eyes flicker open
bringing greetings from a different dimension.
From whence did you come?
May we bend down before you?
May we ask your permission to stare?
May we share your softness,
your complaints, your eagerness to eat?
May we sit in your space,
absorb the being you've been becoming?
May we stand in your presence,
wash your feet, admire your lashes,
touch the fluff of your head?
Now that you are here for us to see,
may we, groaning and grousing
know the world's wrongs
are not all,
cannot be?
---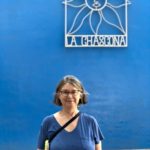 Lao Rubert is a poet and advocate for justice reform living in Durham, North Carolina. Her poems have appeared in Adanna, Atlanta Review, Barzakh, Collateral, New Verse News, NC Poetry Society' Poetry in Plain Sight, Snapdragon and others.