Linen Hankies
by Sarah W. Bartlett
Mutti, we called her. That's the equivalent of "Mom" in German.  A title we picked up from our six-month sabbatical in Munich, 1957.  The name, having acquired her personality, became my own children's way of referring to her, as well.   She was not, of course, their mother.  But (all too briefly) definitely their "Mutti."
My mother loved beautiful things.  Her many foreign travels with Dad on business trips always produced treasures.  Lengths of exquisite silk, delicate fans, ancient pottery and lacquerware from Japan.  Hand carved wooden figures, authentic dirndls, original lithographs from southern Germany.  Elegant silver pieces, lovely handmade linens from Denmark.   Layered in my memory, these things nonetheless all found individual homes on various shelves and tabletops in her home.
Mutti loved beautiful things, and was not modest in her selections.  "What's money for," she used to say.  I always assumed her expansiveness derived from a painfully poor childhood and subsequent feelings of shame.  She never quite seemed to catch up to her dreams of comfort and elegance.  And so, liking a particular dress, would bring it home in three different colors.  Shoes piled up like Halloween candy in a second-grade boy's bag–though still modest by Imelda's standards.  Fine Italian leather hand bags proliferated, coordinating with shoes and outfits.  Custom-made hats–playfully broad-brimmed, softly shaped, bright-colored or muted– lined the many shelves of her closet, each cradled carefully in its own custom-made box with the designer's signature print of 19th century ladies strolling the avenue of a summer afternoon, behatted and parasoled.  Jewelry custom-designed and exquisitely presented sat safe and still in the bank, or, in the case of a few everyday pieces, in her top dresser drawer.
Also in the top dresser drawer, to the right of the jewelry and next to numerous belts in a rainbow of colors and styles, were stacked her linen hankies, neatly pressed and squarely folded. I presume that carrying a linen hanky in one's purse is the mark of a true lady.  My image of Mutti is completed with her final act of "dressing"–carefully placing a linen hanky in her pocketbook.  White, lightweight, and delicately embroidered, these hankies remain for me a symbol of completeness. She never went without one, as today one daren't leave home without an AmEx card.  The hanky was often used, too, as Mutti had a distinctive style of patting her nose at intervals during the day.  No serious blowing.  Just ladylike dabbing.
The other day, I determined to part with the remaining dozen or so leather handbags I have been holding for most of the past decade since Mutti's death.  As a precaution against losing any long-forgotten memento, I opened each bag and carefully emptied its contents before retiring it to the give-away box.  Imagine my delight at finding one of Mutti's lovely hankies, neatly folded and patiently waiting in the folds of the first bag.  My delight turned to amazed disbelief as, bag after bag, I uncovered another, and yet another.  In aggregate, they enveloped me with sensory memories–of her elegant ruby red silk suit, mink stole and  much-loved "Femme" perfume donned of an evening out;  of lunches shared over multiple pastries and coffee in small foreign cafes;  of evenings listening to Rudolph Serkin playing piano concertos with Boston's Symphony Orchestra; or attending "Copellia"  by the Royal Ballet when I was in love with Margot Fontaine.   I felt an affectionate gift had been bestowed upon me.  A modest enough way to hold a connection with my mother which neither clutters nor weighs down my present life.  All told, I must have a good dozen of them now.  All lovely.  Most brand new.  Some carrying specific associations of her using them.  Though, sadly, none still permeated with "Femme."
One hanky is absent, though I'd be hard-pressed to describe it in detail.   At Mutti's death,  my family unanimously agreed to dress her in her "Sunday best."  My last look at her was not the face, recomposed just enough unlike her to be creepy (for I had seen her natural repose in death earlier that same day, the same face I had seen awake and asleep for 41 years).  No, it was her hands, peaceful at last from the final two-week siege of restless waiting and agitated attempts to speak meaningful farewells to each of us.  Her hands, quiet after 81 years of articulate gesturing, piano and organ playing, applying Firehouse Red lipstick, fingering her many crystal animals, straightening hair, dress and house to her standards.  Her hands, encircling a freshly ironed, neatly folded, square white linen hanky.
---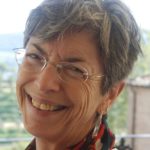 Sarah W. Bartlett has authored two chapbooks with Finishing Line Press, Slow Blooming Gratitudes, 2017; and  Into the Great Blue, 2011); and co-edited two books from writinginsideVT, her program with Vermont's incarcerated women. Additional poetry and prose appear in numerous journals and anthologies. Retired, she leads poetry groups, volunteers in the community, and continues to celebrate nature's healing wisdom as well as landscapes of the human spirit.